Dee Patterson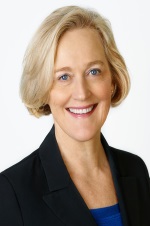 "I'm embracing the opportunity to bring my diverse international business, finance and governance experience to help York continue to succeed."
In her nearly 30-year career as a senior financial services executive, Dee Patterson, MBA'89, led the development of Scotiabank's corporate banking power and utilities portfolio across Canada. She also has extensive experience across many other sectors, including infrastructure, healthcare, technology and government. She credits her experiences, most recently as the vice president of corporate sales, global transaction banking for Canada, the U.S. and the U.K., with affording her an important skill as a York University governor: the ability to work collaboratively and creatively and view complex issues from multiple perspectives.
Dee first joined the York community as a part-time MBA student at the Schulich School of Business in the late 1980s. An international health program graduate, she remembers being impressed with York's openness, flexibility and willingness to consider her MBA application. "They took a chance on me," she says, "and so when an opportunity arose at the Board level, I was intrigued and excited to be able to give back."
She accepted the invitation to join the University's Board of Governors in February 2019. Dee serves on the Governance & Human Resources Committee and also as a member of the Pension Fund Board of Trustees.
In addition to her service at York, Dee is a member of the board of directors at both West Park Healthcare and Toronto Hydro Electric System Limited, and a former board member at Prostate Cancer Canada, North York General Hospital Foundation and Pape Children's House. Adding to her York University MBA, she earned her ICD.D designation from the Institute of Corporate Directors - Rotman Directors Education Program at the University of Toronto and her Master's in Finance from London Business School.