ANTH 5300/6300: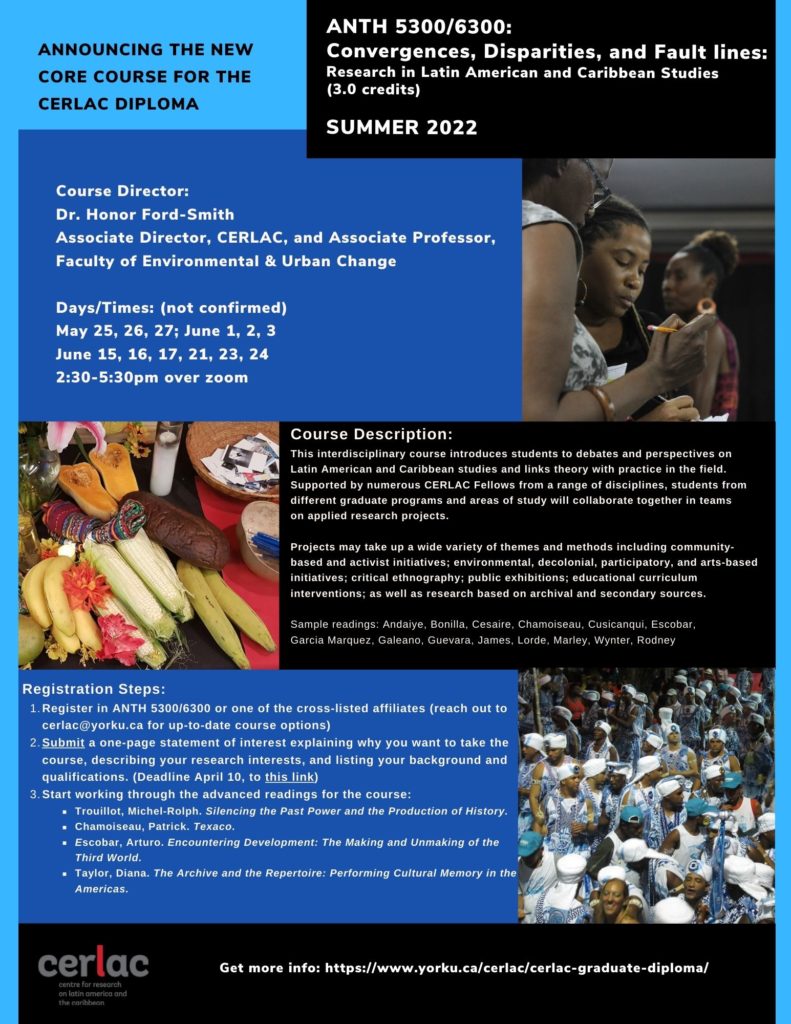 Convergences, Disparities, and Fault lines: Research in Latin American and Caribbean Studies
(3.0 credits) / Summer 2022
Course Director: Dr. Honor Ford-Smith / Associate Director, CERLAC, and Associate Professor / Faculty of Environmental & Urban Change
Days/Times: (not confirmed)
May 25, 26, 27; June 1, 2, 3 / June 15, 16, 17, 21, 23, 24 / 2:30-5:30pm over zoom
Course Description:
This interdisciplinary course introduces students to debates and perspectives on Latin American and Caribbean studies and links theory with practice in the field. Supported by numerous CERLAC Fellows from a range of disciplines, students from different graduate programs and areas of study will collaborate together in teams on applied research projects.
Projects may take up a wide variety of themes and methods including community-based and activist initiatives; environmental, decolonial, participatory, and arts-based initiatives; critical ethnography; public exhibitions; educational curriculum interventions; as well as research based on archival and secondary sources.
Sample readings: Andaiye, Bonilla, Cesaire, Chamoiseau, Cusicanqui, Escobar, Garcia Marquez, Galeano, Guevara, James, Lorde, Marley, Wynter, Rodney
Registration Steps:
Register in ANTH 5300/6300 or one of the cross-listed affiliates (reach out to cerlac@yorku.ca for up-to-date course options)
Submit a one-page statement of interest explaining why you want to take the course, describing your research interests, and listing your background and qualifications. (Deadline April 10, to this link)
Start working through the advanced readings for the course: Trouillot, Michel-Rolph. Silencing the Past Power and the Production of History / Chamoiseau, Patrick. Texaco / Escobar, Arturo. Encountering Development: The Making and Unmaking of the Third World / Taylor, Diana. The Archive and the Repertoire: Performing Cultural Memory in the Americas.