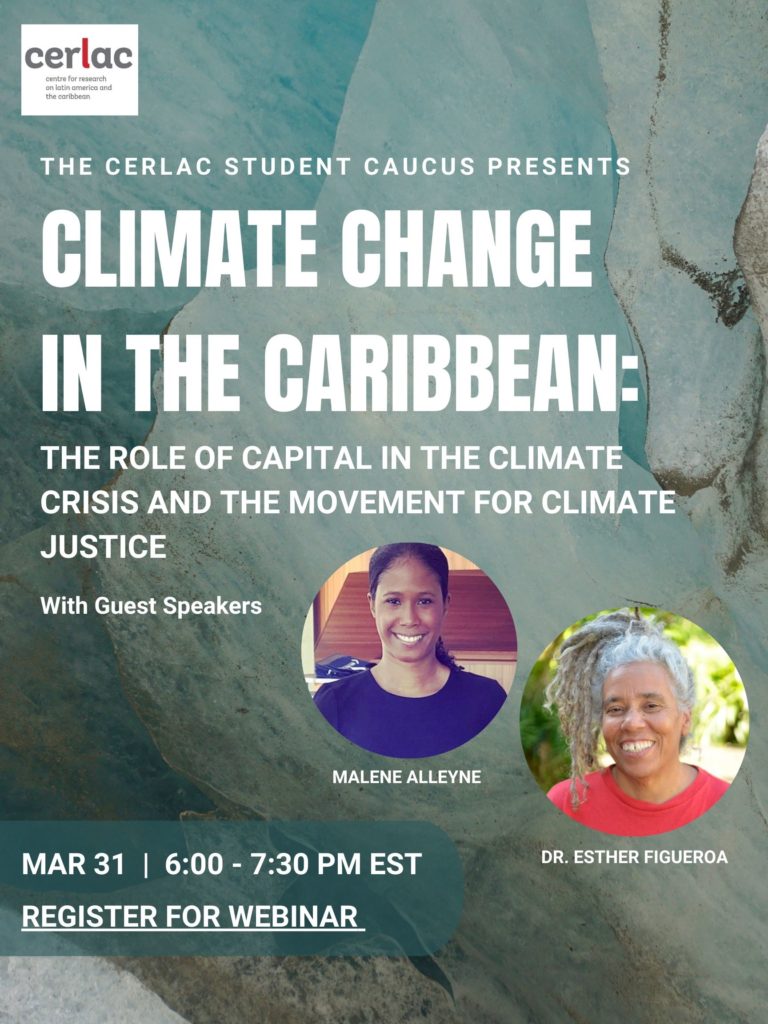 Written by Elaine Coburn, Director of the Centre for Feminist Research
Organized by the CERLAC student caucus and hosted by York University doctoral students Natasha Sofia Martinez and Alex Moldovan.
Malene Alleyne is a Jamaican human rights lawyer and founder of Freedom Imaginaries, an organization that uses human rights law to tackle legacies of slavery and colonialism. She holds a Master of Laws degree from Harvard Law School and a Master of Advanced Studies degree from the Graduate Institute of International Studies, Geneva. She is qualified to practice law in Guyana and Jamaica.
Esther Figueroa, PhD is a Jamaican independent film maker, writer, educator and linguist with over thirty-five years of media productions including television programming, documentaries, educational videos, multimedia and feature film. Her activist film making gives voice to those outside of mainstream media and focuses on the perpetuation of local and indigenous knowledge and cultures, the environment, social injustice, and community empowerment. Figueroa's films include Jamaica for Sale(2009), Fly Me To The Moon (2019). In 2013, Figueroa was Distinguished Writer in Residence at University of Hawai'i English Department. Her environmental novel Limbo (2014) was a finalist in the 2015 National Indie Excellence Awards for Multi-cultural Fiction.
"When you think of the Caribbean, it is likely that you think of the region as a victim of climate injustice" Dr. Figueroa observes. "Certainly, in their calls for reparations, Caribbean governments stress the innocence of the region. But Caribbean governments promote extractivist models of development, whereby tourism, plantation agriculture and forestry, industrial fisheries, the extraction of hydrocarbons, metals and minerals, car-centric development and urbanized built environments are the engines of their growth economies." This is in keeping with the role of Caribbean peoples as the early industrial modernizers in and through sugar plantations, leaders within a world system of colonialism and capitalism. In their scale and complexity, the sugar plantations anticipated later industrial developments in Britain and Europe, Dr. Figueroa argues, creating enormous profits for British colonial owners and funding the expansion of British empire, which at one time included a quarter of humanity. In short, through the plantation system, the Caribbean was central to world processes of industrial modernity, empire and global capitalism. 
To read the full story click here.