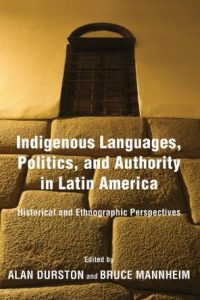 This volume makes a vital and original contribution to a topic that lies at the intersection of the fields of history, anthropology, and linguistics. The book is the first to consider indigenous languages as vehicles of political orders in Latin America from the sixteenth century to the present, across regional and national contexts, including Peru, Mexico, Guatemala, and Paraguay. The chapters focus on languages that have been prominent in multiethnic colonial and national societies and are well represented in the written record: Guarani, Quechua, some of the Mayan languages, Nahuatl, and other Mesoamerican languages. The contributors put into dialogue the questions and methodologies that have animated anthropological and historical approaches to the topic, including ethnohistory, philology, language politics and ideologies, sociolinguistics, pragmatics, and metapragmatics. Some of the historical chapters deal with how political concepts and discourses were expressed in indigenous languages, while others focus on multilingualism and language hierarchies, where some indigenous languages, or language varieties, acquired a special status as mediums of written communication and as elite languages. The ethnographic chapters show how the deployment of distinct linguistic varieties in social interaction lays bare the workings of social differentiation and social hierarchy. Contributors: Alan Durston, Bruce Mannheim, Sabine MacCormack, Bas van Doesburg, Camilla Townsend, Capucine Boidin, Angélica Otazú Melgarejo, Judith M. Maxwell, Margarita Huayhua.
Author Bio
Alan Durston is associate professor of history at York University. He is the author of Pastoral Quechua: The History of Christian Translation in Colonial Peru, 1550–1650 (University of Notre Dame Press, 2007).
Bruce Mannheim is professor of anthropology at the University of Michigan. He is the author and co-author of a number of books, including The Language of the Inka since the European Invasion.