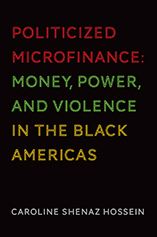 When Grameen Bank was awarded the Nobel Peace Prize in 2006, microfinance was lauded as an important contributor to the economic development of the Global South. However, political scandals, mission-drift, and excessive commercialization have tarnished this example of responsible or inclusive financial development. Politicized Microfinance insightfully discusses exclusion while providing a path towards redemption.
In this work, Caroline Shenaz Hossein explores the politics, histories and social prejudices that have shaped the legacy of microbanking in Grenada, Guyana, Haiti, Jamaica and Trinidad. Writing from a feminist perspective, Hossein's analysis is rooted in original qualitative data and offers multiple solutions that prioritize the needs of marginalized and historically oppressed people of African descent.
A must read for scholars of political economy, diaspora studies, social economy, women's studies, as well as development practitioners, Politicized Microfinance convincingly deftly argues for microfinance to return to its origins as a political tool, fighting for those living in the margins.