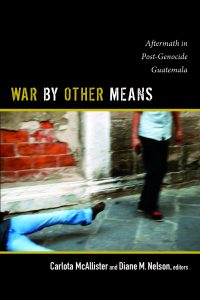 | | |
| --- | --- |
| Author: | Carlota McAllister and Diane M. Nelson, editors |
| Published: | July 2013 |
| Publisher: | DUKE University Press |
Between 1960 and 1996, Guatemala's civil war claimed 250,000 lives and displaced one million people. Since the peace accords, Guatemala has struggled to address the legacy of war, genocidal violence against the Maya, and the dismantling of alternative projects for the future. War by Other Means brings together new essays by leading scholars of Guatemala from a range of geographical backgrounds and disciplinary perspectives.
Contributors consider a wide range of issues confronting present-day Guatemala: returning refugees, land reform, gang violence, neoliberal economic restructuring, indigenous and women's rights, complex race relations, the politics of memory, and the challenges of sustaining hope. From a sweeping account of Guatemalan elites' centuries-long use of violence to suppress dissent to studies of intimate experiences of complicity and contestation in richly drawn localities, War by Other Means provides a nuanced reckoning of the injustices that made genocide possible and the ongoing attempts to overcome them.
Contributors. Santiago Bastos, Jennifer Burrell, Manuela Camus, Matilde González-Izás, Jorge Ramón González Ponciano, Greg Grandin, Paul Kobrak, Deborah T. Levenson, Carlota McAllister, Diane M. Nelson, Elizabeth Oglesby, Luis Solano, Irmalicia Velásquez Nimatuj, Paula Worby