Research Assistant, Synergies of Planetary Health Research Initiative
Research Team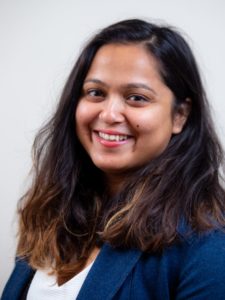 Nilanjana (Nell) Ganguli has a master's degree in environmental studies and a bachelor's degree in biotechnology from York University. She has also completed three years of biotechnology research technologist training at Seneca College.
Nell worked in gold and lithium mining for six years in West Africa and Argentina, where she was involved in multiple facets of the business, including HR, communications, and corporate social responsibility. While working in the mining industry, she recognized a need for better integration of health into corporate social responsibility plans, which inspired her to return to academia to learn about the intricate relationships between the environment and human health. She is passionate about global health equity and environmental sustainability and is currently applying the ecosystem approach to study gender-specific health impacts of climate change in rural communities dependent on natural resources.
Nell has lived in India and Tanzania and now resides in Toronto where she moved for post-secondary education. She is fluent in Bengali and Hindi and has elementary skills in Kiswahili and Spanish. Nell loves to explore different cultures through cooking, travelling, and stories.
You may also be interested in...