Ethics meet aesthetics in a cross-cultural collaboration crafted by a York grad.
By Deirdre Kelly
ON A FAMILY TRIP to Colombia in 2019, Aline Nalbandian (BA/BEd '99) visited a rural marketplace in the north of the country, where she spied a stall overflowing with colourful, handwoven totes. She drew closer, attracted by a bag of jungle-green and parrot-blue called a mochila. Speaking through a translator, she learned that the bags are made by the Wayuu, an Indigenous matrilineal society whose weaving traditions have been passed down from woman to woman for generations.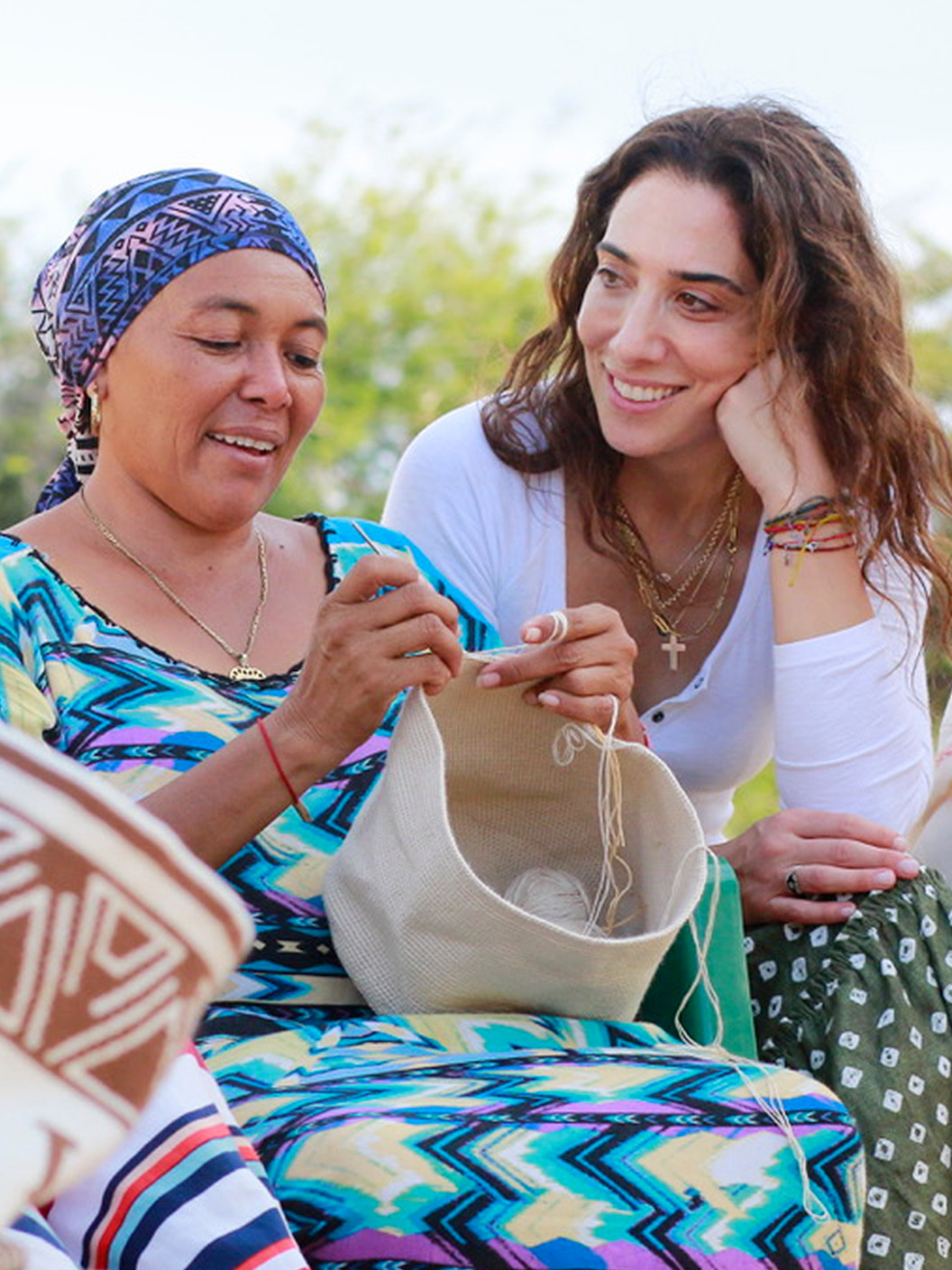 Featuring embroidered straps and drawstring closures with pom-pom tassels, each bag is a one-of-a-kind creation with tribal wisdom hand loomed into the geometric patterning. Popular with the Coachella music festival set, along with devotees of sustainable fashion and the editors of Vogue, the designs are derived from nature and stories about the mythical Walekeri, a spider deity said to have taught the Wayuu how to crochet.
The Wayuu's homeland of La Guajira, a desert peninsula located in the north of the country, on the Caribbean coast, isn't just harsh; it's home to one of the poorest regions in all of Colombia. More than half the population lives below the poverty line and suffers from malnutrition, according to official figures released by Colombia's National Administrative Department of Statistics.
To secure much needed pesos for food, the women sell their mochilas in La Guajira's marketplaces, often through a third-party vendor who pockets most of the profits. "As soon as I heard that," Nalbandian says, "something clicked. I just had to get involved."
She bought one bag. Then three and eventually several hundred – bypassing the exploitative middlemen to buy directly from the women at fair market prices. She now sells the bags herself in partnership with the Wayuu at pop-up shops in her home city of Toronto and elsewhere across southern Ontario under the brand name A-Line Wayuu Love.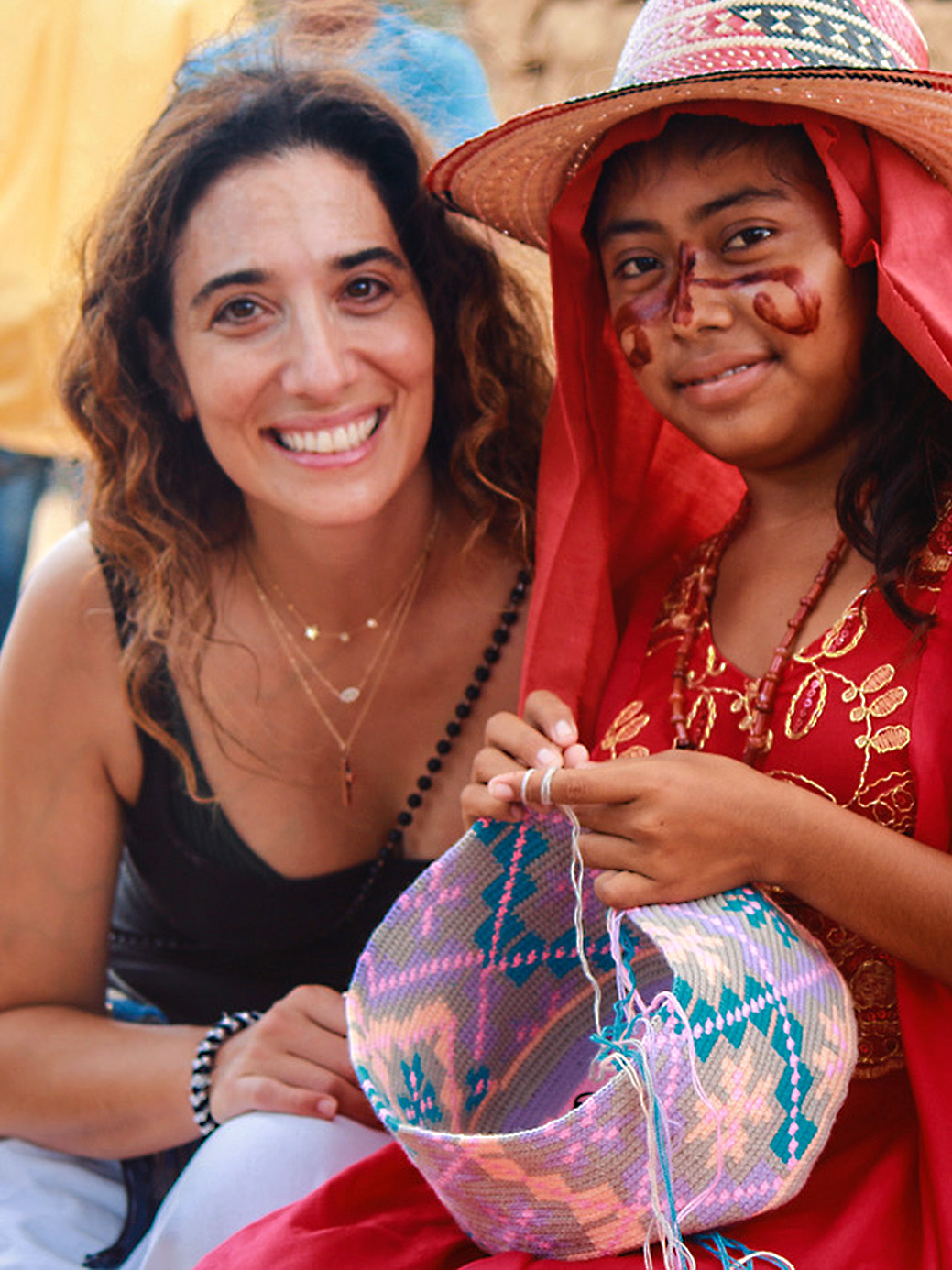 A portion of all proceeds is re-invested into the artisans' communities, where the bags are more than a chic accessory.
"Girls learn the craft from their elders around the age 12," says Nalbandian, "and they continue weaving well into adulthood as members of their community's female collective of artisans. It's not fashion to them. It's a way of life."
Besides helping to sell the Wayuu's weaving arts in Canada, the married mother of three daughters works to support the community on home turf. Travelling to La Guajira up to four times a year, she donates education kits along with other much needed supplies such as shoes for the community's children, who have to walk more than two kilometres each way to reach the nearest school.
When in the community, she also volunteers in the classroom, teaching the math skills acquired when she was a York University Con Ed student. Last year, she contributed to the building of a small, two-room school in Alta Guajira, located in the far north of the Guajira desert. It opened last September, and is now serving 80 kids who otherwise couldn't access a classroom because of the vast distances.
"That's how I'm making a difference," Nalbandian says. "The bags are beautiful and I'm paying forward by giving back to a community whose devotion to nature, family and a simpler way of life is truly inspiring to me. I want to help them preserve their traditions and I'm honoured the Wayuu are letting me do it. I don't take it for granted."
Article originally published via The York University Magazine, summer 2023.