The Faculty of Education takes immense pride in showcasing one of its recent graduates, Anthony Kosick, who has been honoured with the prestigious 2023 Ontario Secondary School Teachers' Federation (OSSTF) award.
Expressing his excitement, Kosick shares, "It was a phenomenal honor to win the OSSTF award. Applications opened early in 2023 and once I reviewed the criteria and got letters of reference from a mentor teacher and one of my professors, I submitted my application and waited! I found out that I was the recipient of the award via email on one of my first days working as a substitute teacher following the conclusion of my final practicum, and received my official congratulatory letter and cheque in the mail in early June."
Reflecting on his journey, Kosick acknowledges the unwavering support and opportunities provided by the Faculty of Education, which have played a pivotal role in shaping him as both a teacher and an individual. From the outset, he was determined to make a meaningful change in society through education, and his time at York University helped him lay the foundation for his pedagogical and practical approach.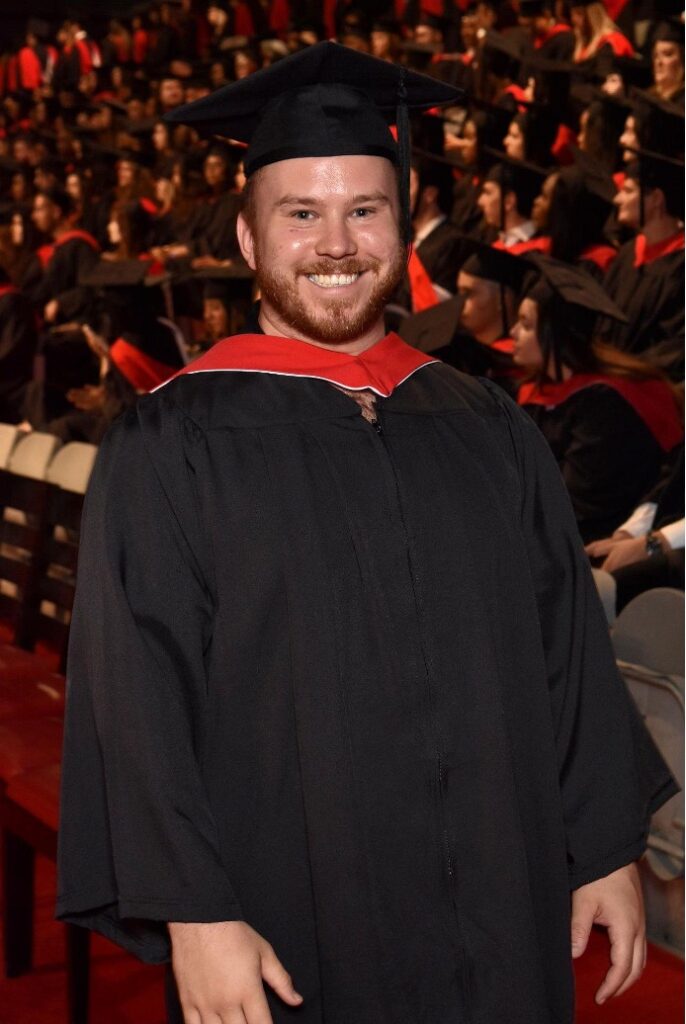 "The classes I took served as the building blocks to developing my pedagogical and practical approach to education, empowering me to work towards becoming the teacher I aspire to be," Kosick adds. "As a part of the Faculty of Education Students' Association (FESA), I had the chance to connect regularly with peers, professors and other faculty members.
"My time with FESA certainly helped shape my identity as an educator and equipped me with a diverse range of pedagogical tools."
Kosick notes that his time with FESA as the Professional Development Director and member of the Teacher Education Liaison Committee empowered him to directly connect, collaborate and learn from members of the Faculty of Education community. In this capacity, he had the privilege of organizing FESA's annual Professional Development Conference, where FESA centered equity, diversity, inclusion and social justice in workshops for teacher candidates. Workshops topics featured Indigenous Education and destreaming in schools to promote mental health in the classroom, among others.
Kosick likewise served as a member of the Teacher Education Liaison Committee (TELC) from 2021 to 2023 in his journey to the OSSTF. "This role allowed me to represent York University's teacher candidates and collaborate with the committee on important matters like Federation day and the OSSTF certification presentation," he says. "Participating in TELC gave me valuable insights from professional members of the Faculty and gave me the chance to engage with representatives from various educational federations."
Kosick's commitment and dedication led him to be the sole representative of York University at the 2023 OTF Teacher Education Symposium, where he availed additional workshops on collaboration, anti-oppressive education, facilitation skills, and creating inclusive and equitable learning environments.
Since his graduation, Kosick has been working as an occasional teacher within the TVDSB, PDSB, and HDSB, while also contributing as an alternate text specialist in the accessibility field. Looking forward, he is determined to continue learning and growing as an educator, aiming for full-time teaching positions and other roles to make a lasting impact on education in Ontario.
"As I step into the world of education, I've been fortunate to learn from and collaborate with dedicated professionals who have truly inspired me," he says. "To all the educators out there, you are often underappreciated and your work can often be thankless, but educators hold an immensely important role in our society. I see the incredible effort you pour into your work each day.
"Education is a profoundly rewarding path, where you can make a meaningful impact on young minds," he adds. "The world needs passionate, creative educators to shape the future. Embrace your calling and embark on this fulfilling journey."
Article by Dennis Bayazitov special contributing writer