The Faculty of Graduate Studies (FGS) honours two outstanding professors with the Postdoctoral Supervisor of the Year Award. On December 2, the York community came together to celebrate Dr. Petros Faloutsos, the 2020 recipient, and Dr. Ellen Bialystok, the 2021 recipient, during the Faculty Council meeting.

The award is bestowed annually on a Postdoctoral Supervisor who provides an exemplary environment of support for professional skill development, promotes a climate of respect and collegiality, offers advocacy and guidance in long-term personal and professional development and is overall a role model for intellectual leadership and professionalism. Both Bialystok and Faloutsos demonstrated exemplary support for postdoctoral scholars, exceeding general supervisory expectations.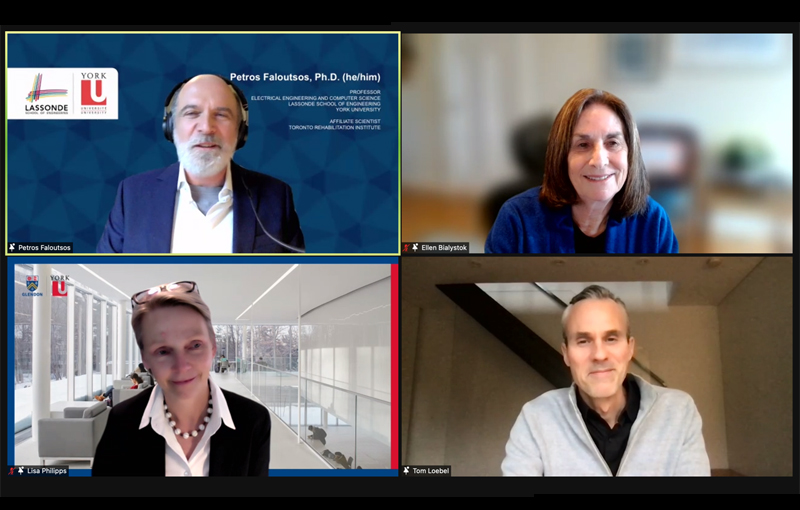 From left (top): Petros Faloutsos and Ellen Bialystok. From left (bottom): Provost and VP Academic Lisa Philipps and FGS Dean & Associate Vice-Provost Graduate Thomas Loebel.
Lisa Philipps, Provost and Vice-President Academic, started off the celebration by announcing the awardees and stating, "I would like to take this opportunity to personally recognize you both for your exceptional contributions to postdoctoral research and development at the University." Due to the postponement of last year's ceremony, the first award was presented by Tom Loebel, Associate Vice-Provost Graduate and Dean of FGS, to the 2020 recipient to formally recognize this outstanding achievement.
Dr. Faloutsos of the Department of Electrical Engineering and Computer Science at York University is well-known for his work on composing controllers for virtual characters, which resulted in a prototype virtual stuntman that has received international media attention. In 2011, Faloutsos co-founded the GAMAY lab at the Lassonde School of Engineering at York University, which he now co-directs.
In the letter of nomination, Dr. Brandon Haworth noted, "Dr. Faloutsos took the time to compile his many years of expertise for me into digestible conversations and documents. He had spent years helping me develop my CV and now he helped me develop my voice as a potential professor. He encouraged me to use my personal approach to CS, from a social critical perspective, to build a research program around my work. He also encouraged me to be introspective about my teaching and supervision and to consider ways in which I could lead in these areas."
In his acceptance of the award, Faloutsos remarked on his gratitude and how deeply touched he was by the nomination. He thanked Brandon Haworth and said "I'm lucky in my career to work with excellent researchers, and good people. I work with a small number of postdocs and students, to work closely with them to help them build their research and their career." He concluded, "York is an excellent environment where postdocs can find success, and nothing is more rewarding than seeing my postdocs succeed."
Dr. Bialystok is equally commendable, supervising more than 10 postdoc fellows since 2007. She is a distinguished research Professor of Psychology and Walter Gordon Research Chair of Lifespan Cognitive Development at York University and Associate Scientist at the Rotman Research Institute of the Baycrest Centre for Geriatric Care. Her discoveries include the identification of differences in the development of essential cognitive and language abilities for bilingual children, the use of different brain networks by monolingual and bilingual young adults and the postponement of symptoms of dementia in bilingual older adults.
"She is the favorite amongst national and international students to research bilingualism. She is an excellent mentor and supervisor. Her extensive knowledge and her reorganization of the lab due to the pandemic has even led to much more interdisciplinary experience for the trainees," said Postdoctoral Fellow Noelia Calvo who nominated Bialystok. "Her strength, resilience, energy, dedication, and commitment amaze me and inspire me every day."
Bialystok, in her acceptance, thanked both her current and past trainees, mentioning both Calvo and how honoured she was that many who had moved on in their careers were able to attend, "I've had a lot of awards but there is something very special about this one. There is no higher praise than hearing that gratification from those you are responsible for." Bialystok went on to discuss her longstanding passion for research and remarking, "My students and postdocs that I collaborate with, and work through problems with, are part of the family and we all benefit from it."
The Faculty of Graduate Studies is proud to celebrate the achievements of both Dr. Bialystok and Dr. Faloutsos and highlight their vital roles in the larger community at York. This yearly event is an important part of acknowledging all the hard work undertaken by both the postdoctoral fellows and their dedicated supervisors.
The Postdoctoral Supervisor of the Year Award accepts nominations annually by no later than June 1 of each year. To learn more, visit: gradstudies/postdoctoral-fellows/supervisor-award.