Graduate school can be an inspiring space of personal growth, inquiry and community building, but at times it can also feel very isolating. Conducting research individually and/or remotely due to the COVID-19 pandemic or because of personal reasons can be challenging. The Faculty of Graduate Studies (FGS) is here to lend a helping hand! FGS is committed to fostering a healthy and inclusive environment that promotes mental health and well-being by providing easily accessible tools and resources to all members of our community.
An important point of contact for all graduate students is the Graduate Wellness and Counselling page which hosts a variety of specialized services and resources. Everyone can find an approach catered to their needs. Check this resource often since York offers a number of unique opportunities throughout the year such as Meet for a Meal and the Wellness Challenge to consistently foster a supportive atmosphere on campus.
Students seeking to enhance their personal mental health or well-being can start by accessing the Wellness Consultation & Counselling Services sessions. If you are concerned about your academic life such as balancing courses or transitioning to grad school, sign up for a session. If you are dealing with issues regarding your personal wellness and staying healthy, this resource is also for you! The sessions, which are confidential and last 50 minutes, are offered by trained counsellors.
Another important resources to highlight is the Certificate in Personal Wellness and Learning Skills. FGS partnered with Learning Skills Services to offer a certificate program that includes five sessions through which participants are able to enhance personal wellness and learning skills while building social connections with other graduate students. Register for our upcoming cohort.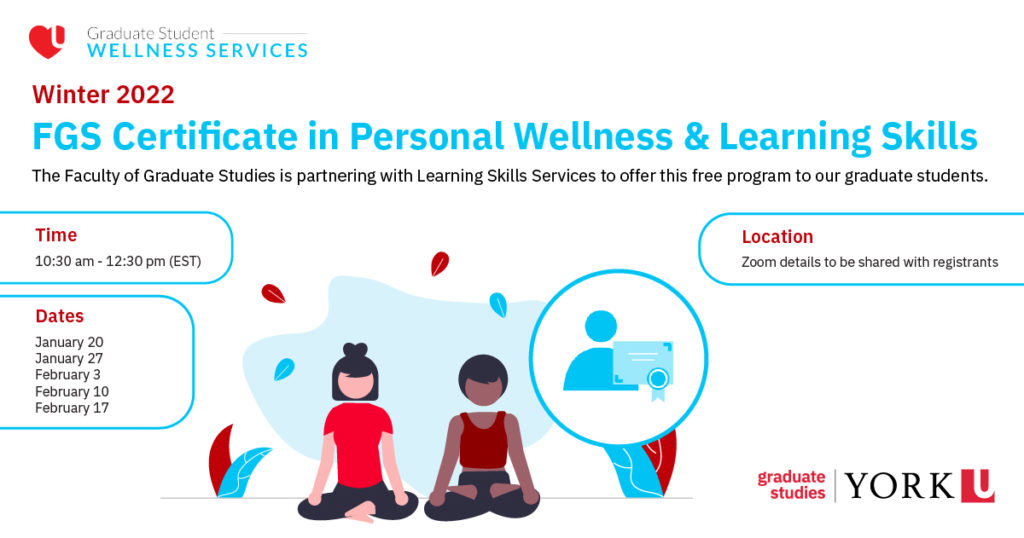 If you would like to further connect with the York community and with your peers, access the current webinars and events page. Make sure to register for the upcoming webinar, Building Meaningful Connections in an Online World (Bell Let's Talk Day). The session welcomes Aziza Kajan (Manager, Graduate Student Counsellor) who will be speaking about Wellness Services' various offerings for graduate students.
If the timing of the sessions do not work for you, or if you feel inspired to share a session with your fellow peers there is an opportunity to request Wellness Webinars. These sessions can be arranged and tailored for any graduate student association, group, club or program. Additionally, there is also the option to organize your own project, and York will take on the financial burdens. The Graduate Student Wellness Initiative Fund allocates up to $1,500 to support the undertaking of initiatives, events, programs or resource development related to graduate student wellness.
Moreover, another vital page to bookmark is the Student Counselling, Health & Well-being (SCHW) website. By offering a holistic approach to improving overall mental and physical health, councillors are available to offer a range of support dealing with sleep, sexual health, alcohol and drug use, nutrition and mental health. Students are encouraged to express their preference to meet with counsellors with whom they share the same or similar identity (e.g. male, female, Black-identifying, LGBTQ2S+-identifying, etc.).
If you would like to do some personal research about what services are available on and off-campus, make sure to view the Resource Hub. It is a convenient way to search York University resources related to mental health and well-being as well as community support and services, helplines, websites and apps.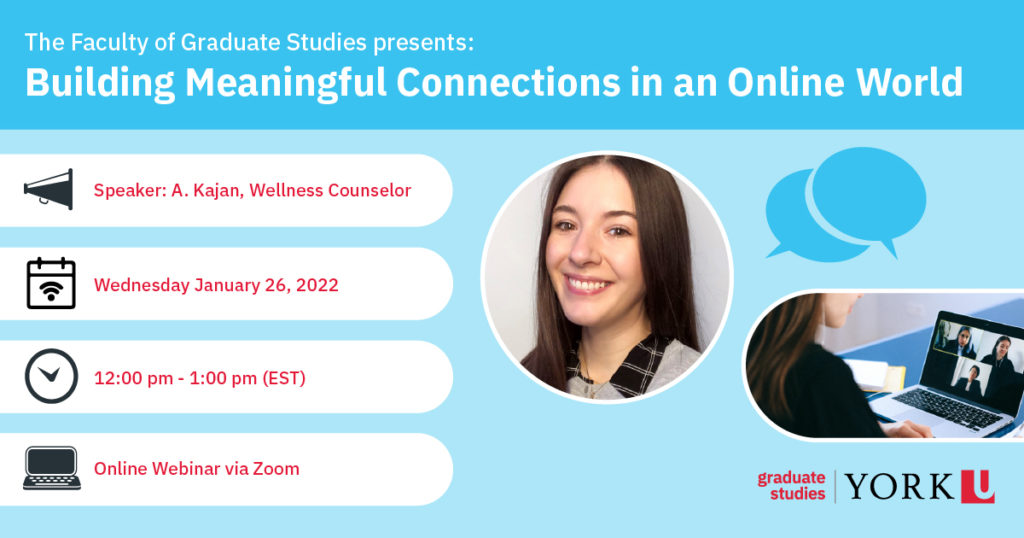 Join the York Community in supporting graduate wellness by participating in Bell Let's Talk day on Wednesday, January 26th and never hesitate to ask for help. Register here.