York's Faculty of Graduate Studies celebrates seven members of our community who received the Top 30 Alumni Under 30 award. Launched in 2021, the program seeks to highlight the success and diversity of the University's young alumni, while inspiring the next generation. This year's enthusiastic group of leaders are applying the education, skills and experiences they received at York to create meaningful impacts locally and globally.
Suzanna Alsayed (MDEM '20)
In 2019, Suzanna Alsayed founded Hilt International Security, her first venture, a holistic security firm with the goal to protect people and assets worldwide. Moreover, in mid-2020, she established Evolutz Inc., an independent global brand, design, copy and website development agency. She received numerous accolades from experts and professionals in the field, which demonstrate her high level of engagement in the industry. In addition to her professional success, Suzanna strives to promote positive change in her community. Since 2020, she is a member of Women in Defence and Security (WiDS) which focuses on advancing the careers of women in defence and security fields.
Sayjon Ariyarathnam (JD/MBA '20)
Sayjon Ariyarathnam is a banking and finance lawyer at Blake, Cassels & Graydon LLP. He is also a board member with the Community Legal Clinic of York Region, a not-for-profit organization that promotes universal access to justice and poverty elimination. Additionally, Sayjon is dedicated to creating a positive difference by passionately promoting access to resources and opportunities outside of his profession. He is actively involved with Law in Action Within Schools as a mentor to students who face personal and systemic barriers to success. Through his engagement in sessions aimed at exposing students to law and justice through workshops, mentorship and employment, he is helping many vulnerable students reach their goals.
Elijah Bawuah (MES '21)
Jc Elijah (Eli) M. Bawuah is a practicing urban planner and public consultant with multi-disciplinary experience gained by working in a spectrum of city and community-building roles. He is the co-founder of the Mentoring Initiative for Indigenous and Planners of Colour (MIIPOC) which focuses on establishing a national network between experienced and emerging planners from marginalized communities. Eli is also a committee member of the City of Toronto's 2SLGBTQ+ Council Advisory Body, strategizing policies aimed at removing barriers faced by the queer community. Eli exemplifies a true leader by advocating and prioritizing goals that will help foster diversity and inclusion in urban planning.
Jonathan Clodman (MEd '20)
Jonathan Clodman is an elementary teacher with the Toronto District School Board who is always looking for new opportunities to help others. His work extends through a variety of classroom, camp and community experiences, including the boards of two community-based children's non-profits. Jonathan was previously a co-director of Vaccine Hunters Canada, where he developed onboarding resources, supported volunteer responders and collaborated with a variety of educational stakeholders. As a teacher, Jonathan passes along his drive for meaningful change to the younger generation by encouraging his students to get involved with their community.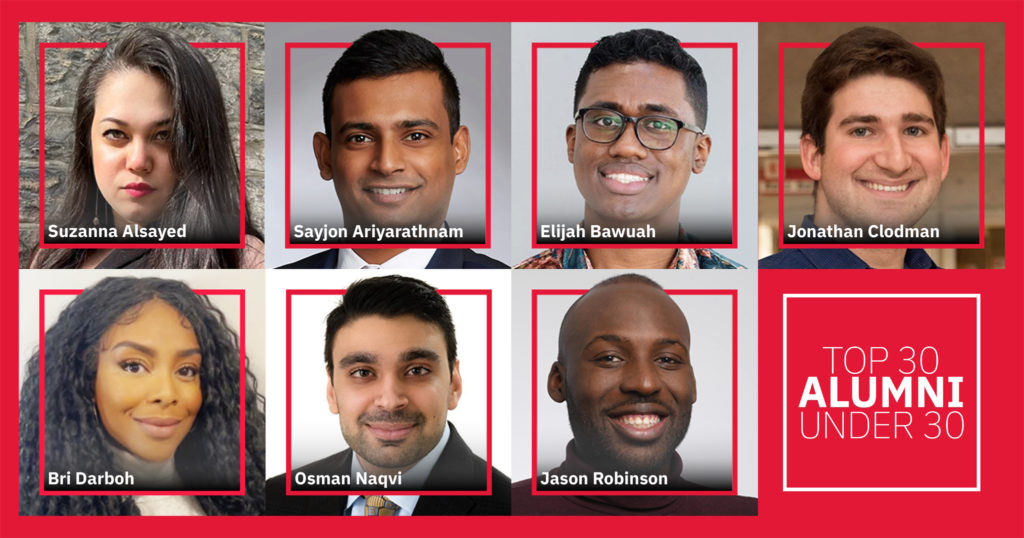 Bri Darboh (MA '19)
Bri Darboh is a senior doctoral student in clinical psychology and neuropsychology at York, as well as a part-time MBA student specializing in health industry management and organization studies at the Schulich School of Business. She is dedicated to creating progressive changes to healthcare by addressing pipeline issues resulting in BIPOC underrepresentation through contributing to several professional and community initiatives. She is an inaugural student representative of the Society for Black Neuropsychology as well as the co-president of York's Black Students in Psychology (BSIP) organization. Bri has spearheaded BSIP's recent efforts to expand the organization to the entire faculty of Health at York University in order to ensure that all BIPOC students with a proclivity for healthcare are being effectively reached.
Osman Naqvi (MSTM '17)
Osman Naqvi works as an advisor, investor services at Invest in Canada—a global investment attraction and promotion agency that facilitates global investment into Canada. Osman's work outside his profession focuses on serving many causes including youth, women, refugees and more, which has directly impacted thousands of families across Canada. Osman's philanthropic journey began at 13 when he founded the Bayshore Youth Council. He continued serving his community and fostering positive change through numerous boards and charities before co-founding YOUth Heroes, a non-profit organization that provides mentorship and entrepreneurship education to marginalized youth. Osman has received accolades from all levels of government and various charitable organizations, such as Canada's 150 award and United Way's Community Builder award.
Jason Robinson (MES '19)
Jason's current roles include data analyst for the Rural Ontario Institute and policy specialist for the Community Climate Council. As a leader of his community dedicated to fostering an inclusive environment, he co-founded Gradient Spaces, a place for BIPOC and 2SLGBTQ+ people passionate about making tech more equitable. Specifically, he works on collecting data to address the issues racialized and queer people face in the tech ecosystem. Moreover, Jason is a Youth Program Facilitator at Ecosource where he is recognized for bringing an environmental justice perspective to the monthly virtual workshops aimed at youth and adults to increase intergenerational conservation related to climate change.
Congratulations to this year's group of dedicated young minds who are creating meaningful change and working to right the future in significant ways. These motivated leaders highlight the many life paths made possible with a York degree.