This year's Faculty of Graduate Studies (FGS) Teaching Award was bestowed on Professor Eric Mykhalovskiy, member of the Graduate Programs in Health, Science & Technology Studies, Socio-Legal Studies and Sociology for which he is also the Graduate Program Director. Mykhalovskiy fully embodies this award's dedication to sustained excellence, commitment and enthusiasm to teaching at the graduate level at York.

FGS Dean and Associate Vice-Provost Graduate Thomas Loebel presented the award at the Faculty Council meeting on May 5th. Loebel praised Mykhalovskiy for his pedagogical skills, saying, "Students' intellectual growth is his central aim, but to achieve that, he works astutely with students' personal and social wellbeing. He spends hours after the collaborative group discussions, checking in with individuals, helping them to work through concerns, calling attention to those wonderful elements in them, which their anxiety makes them forget, that generate endurance and confidence."

Also in attendance was President and Vice-Chancellor Rhonda L. Lenton who similarly commended Mykhalovskiy. "Eric is praised by students and colleagues alike as an engaged and supportive teacher, supervisor and mentor who is known for his high-quality content, his use of effective pedagogical tools and exemplary methods, and his ability to instill confidence in his students and ensure that they feel valued, recognized, and empowered to achieve excellence."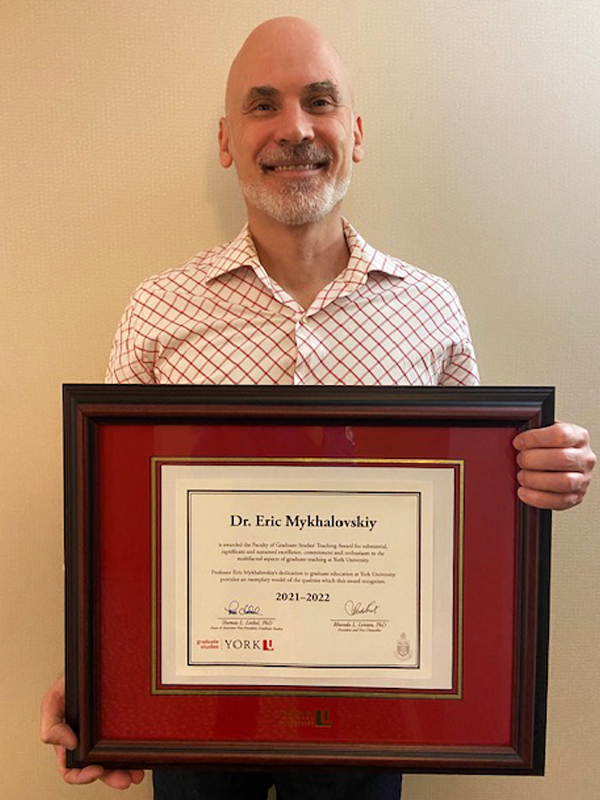 Professor Eric Mykhalovskiy
Letters of support for his nomination recognized how his pedagogical and interpersonal skills as well as his strategic thinking motivated a significant number of program renovations. Specifically, Mykhalovskiy's work at York has been instrumental in new curriculum development. He introduced a holistic approach to courses crucial to navigating and succeeding inside and outside of Academe. He provided his students with space to practice interpersonal skills, instilled in them a sense of purpose and outlined clear learning outcomes. Additionally, he curated new topics that incorporate specialist speakers and readings conveying multiple viewpoints in order to amplify discussion.
Moreover, Mykhalovskiy played a crucial role in having his Graduate Program (Sociology) face and address anti-Black racism through listening and discussion fora, designing systemic change as well as demanding behavioural change.
Outside of the classroom, Mykhalovskiy is a dedicated member of his community. He joined the Hyflex Pilot Project at York and the Hyflex Community of Practice in the Faculty of Liberal Arts & Professional Studies. Moreover, he was a founding member of the Ontario Working Group on Criminal Law and HIV Exposure and the Canadian Coalition to Reform HIV Criminalization.
Accepting the award, Mykhalovskiy said, "Working with graduate students, either in teaching courses or supervision, and having the opportunity to share in their intellectual journey, and help form it in whatever ways possible, is without question the most gratifying part of our work as professors for me. I am deeply grateful to be recognized in this way."
York is grateful for all the exceptional contributions to graduate education from the dedicated members of our community and is excited to celebrate Mykhalovskiy for this extraordinary achievement.