Faculty of Graduate Studies (FGS) is inspired by Zahra Nader, an exceptional member of our York community who is a driving force for positive change on a global scale. Nader began her journalism career in Kabul in 2011 and by 2016 began working as a reporter for The New York Times in Afghanistan. She moved to Canada in 2017 to pursue higher education and is currently completing a PhD in Gender, Feminist and Women's Studies at York University. Nader's SSHRC-funded research is focused on the political histories of Afghan women from the 1960s to the 1990s.

In August 2022, Nadar and a group of women journalists from Afghanistan launched Zan Times, a non-profit newsroom in exile, to report on human rights violations in Afghanistan, mainly focusing on women, the LGBTQ community, and environmental issues. In three months, Zan Times produced more than 30 stories about the most marginalized in the country, both in Dari and English. "We have reported that the Fine Art faculty of Kabul University has been "paralyzed" under the Taliban, people's resistance to the Taliban's ban on girls' education, how the closure of schools and poverty exacerbated forced and child marriages, and an investigative report on arrest, torture and killing of women protesters in Mazar-e-Sharif that was featured by BBC Persian and Global Investigative Journalism Network" says Nader.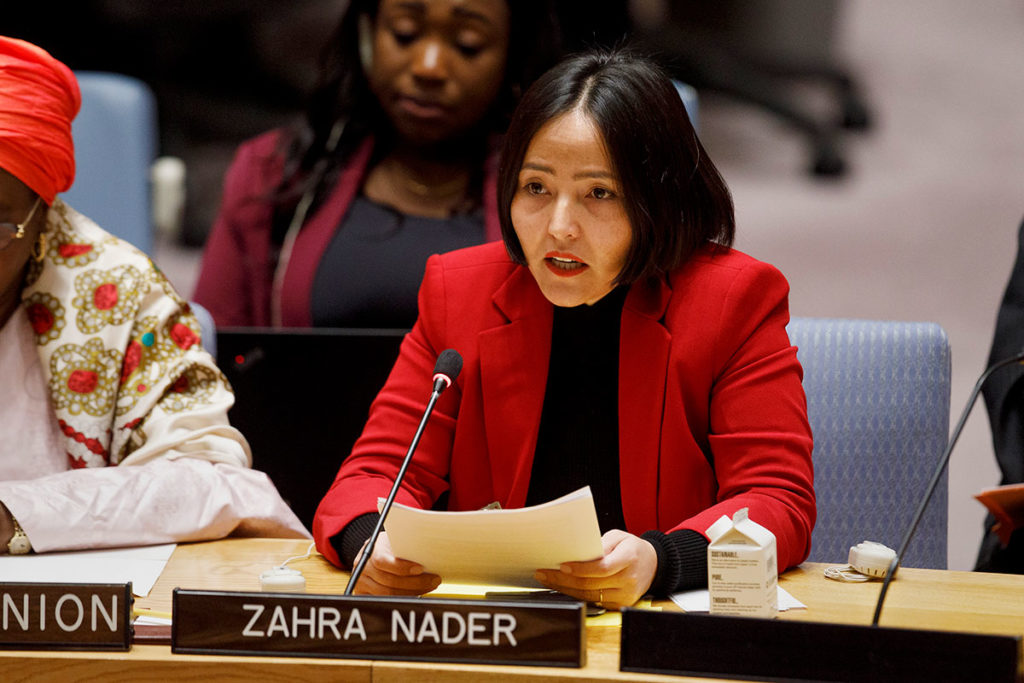 Zahra Nader
In acknowledgment of their work at Zan Times, Nadar was invited to brief the United Nations Security Council Open Debate on Women, Peace and Security in October 2022. This meeting was an opportunity for all Member States to share specific examples of how they are supporting women's resilience in conflict-affected countries and their capacity to contribute to peace and security. Nadar says "coming from the margins of society, this opportunity allows us to see that the process of change starts with each of us, with individuals willing to do their part to participate in the process of change. As women journalists, we are doing our part by sharing women's voices who are fighting for their basic human rights. We hope our work raises awareness of women's situation in Afghanistan, which is the planet's most severe women's rights crisis."
Inspired by her own personal story of struggling to obtain access to education, Nader is committed to creating positive change for future generations of Afghan women who she hopes will not have to go through the same hardships. Through her career as a journalist and a scholar, Nader is committed to filling a void that she had noticed in women's political history that lacks a chapter on how Afghan women fought for their rights. She hopes that her work will inspire future generations to keep the fight going and continue the struggle for equality.
York is proud of the work that Nader is performing, which is actively contributing to the United Nations Sustainable Development Goals (SDGs). The Goals act as a framework that calls on member countries to take urgent action in seventeen areas that are critical to ensure peace and prosperity for people and the planet.
Nader's drive to secure accessible schooling for future generations of Afghan women reflects goal #4: ensuring inclusive and equitable quality education is available and promoting lifelong learning opportunities for all. Her women-led newsroom also contributes to goal #5: achieving gender equality and empowering all women and girls. Moreover, Nader's activism work also engages goal #16: promoting peaceful and inclusive societies for sustainable development, providing access to justice and building effective, accountable and inclusive institutions at all levels.
York is confident that Nader's story will motivate others to contribute to other SDGs, which will lead to positive change locally and beyond. The University encourages all students, faculty and staff to bring their expertise from across disciplines and work together to build new tools and develop strategies and solutions to global challenges.