JULY 31, 2023
Dear Faculty of Health community,
I hope you are enjoying the summer so far and finding as much opportunity as possible to rest and relax. I am very grateful for the members of the Strategic Planning Drafting Team and Advisory Board, who have continued to work throughout the summer term on our multi-phased process: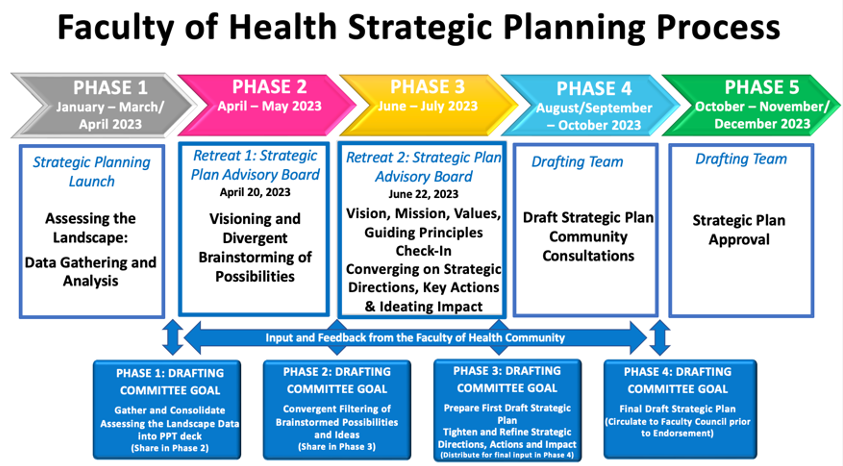 To that end, let me take this opportunity to acknowledge the additions of Monique Herbert (Psychology) and Kathy Thomas (Office of the Dean) to the Drafting Team in the early summer following the departures of Matthew Keough and Laura McColl from the committee. Thank you Matthew and Laura for your efforts and insights during the early phases of this important work.
Parissa Safai, the Chair of the Drafting Team, provides an update of strategic planning work in her message below. It also contains an invitation for feedback on the first draft of the strategic plan. I hope you will take up the opportunity to give feedback, and I look forward to working together with you as we move into the final phases of strategic planning and its implementation.
Sincerely,
David Peters
Dean, Faculty of Health
---
Dear Faculty of Health students, alumni, staff, and faculty,
I am pleased to give you an update on the work of the members of the Strategic Planning Drafting Team and Advisory Board. In late June, these members reconvened for a second in-person retreat focused on: discussing and commenting on proposed revisions to the faculty's vision, mission, and value statements; providing feedback on potential strategic directions, possible key actions, and associated impacts; as well as offering guidance to the drafting team on future consultations with members and partners from within and outside of the university community. We were very fortunate to have an artist from ThinkLink Graphics join us for the day to listen to and visually capture key themes and ideas in an animated format. The artwork can be viewed here.
Much like how Retreat #1 was informed by a great deal of information from across a range of sources, Retreat #2 was similarly grounded in a significant amount of data analysis and consultation. To date, the Drafting Team have drawn on ideas and information raised through database searches, survey results provided by nearly 2500 students, faculty, staff, and alumni, over 25 focus groups and interviews, check-ins with School/Department Academic Councils, as well as discussions with Advisory Board members. Key documents have also been reviewed and taken into consideration including, but not limited to:
Following the second retreat, the Drafting Team have focused on synthesizing what has been voiced by students, alumni, staff, and faculty members and I am pleased to share a Draft Strategic Plan for your review here: yorku.ca/health/py-community-area.
Your feedback on the Draft Strategic Plan is warmly welcomed. I invite you to review the draft strategic plan and offer your feedback through a brief survey by September 20, 2023. Should you prefer, feedback can also be shared by email and can be sent to healthdn@yorku.ca.
The feedback will be used by the Drafting Team to further refine the draft strategic plan in efforts to ensure that it meets our collective sense of purpose (our mission), our guiding principles (our values), our aspirations for what we want to achieve (our vision), as well as how we want to achieve and actualize our mission and vision (our strategies and objectives).
As we move into the fourth of five phases of the strategic planning process (see above), we will be also getting feedback from partners and experts outside of York University. We will be coming back in the Fall with a revised draft of the Strategic Plan to discuss at Faculty Council.
We look forward to hearing from you and seeing you again in person in the Fall term.
Sincerely,
Parissa Safai
Chair, Strategic Planning Drafting Team