Julie Dowsett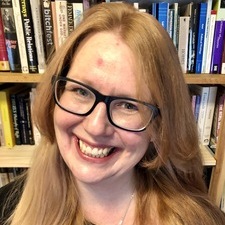 Dr. Julie E. Dowsett holds a B.A. in Political Science and Women's Studies from Western University, and a M.A. and Ph.D. in Politics from York University. She won the 2013-2014 Mary McEwan Memorial Award for her doctoral dissertation. Julie's teaching areas include gender in relation to law, politics, and political economy.
Julie's research concerns the relationship between gender and the politics of consumerism, and she works at the intersections of Marx/Marxism, Freud/Freudianism, and feminist theory. Her research has taken her to archives in New York City, Washington, DC (the Library of Congress), and Cambridge, MA. She has received funding for her research from Harvard University (2017-2018 Schlesinger Library Research Support Grant) and York University (various contract faculty grants). She has published in the International Feminist Journal of Politics, Atlantis, Socialist Studies, Affinities, and the Encyclopedia of Women in Today's World.
A life-long city person, Julie recently relocated to a small town on Lake Simcoe with her partner and child, where she is discovering the ins and outs of rural political activism, and re-discovering the joys of kayaking, hiking, and cross-country skiing.