Adeola Akinsola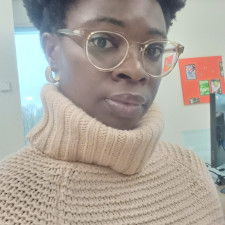 Foundation Program
Impact Network Program Coordinator
Sustainable Waterloo Region
Adeola Akinsola is newcomer who came to Canada from Nigeria and joined the IEP Bridging Program "to learn more about communication, business and employment in the Canadian context as well as to build a network". She faced challenges as an underemployed immigrant, and she wanted to expand her professional network to improve her chances of securing a desired role.
Through the Foundations Program, Adeola was able to gain knowledge about life in Canada, improve her language and communication skills, make new connections, and grow her personal and professional networks. "Through the communications course, I got an excellent sense of my communication capabilities relative to Canada. This helped me adjust and improve my writing".  She explained, "I built a network through interaction with participants and instructors. I also received support to make connections from the IEP team".
The program also provided her with skills to prepare for the Canadian Labour Market. For example, Adeola credited the impact of meeting the other program participants, "besides the courses, the program participants are a good reflection of Canadian society in their diversity and experience. Interacting with them provided glimpses into various aspects of life in Canada".   "I've been able to leverage the knowledge I gained from the experience of other participants in my professional interactions", she explained.
Adeola believes her experience in the program have yielded positive results. Her communication skills and knowledge of business in Canada have improved, and she now has a growing personal and professional network. Additionally, she has access to academic and professional referees and can confidently consider further education based on her experience and knowledge of education in Canada. Her experience in the program has enabled her to secure a job as the Impact Network Program Coordinator at Sustainable Waterloo Region.
When asked what advice she would give to other newcomers who are looking for employment in Canada, Adeola emphasized the importance of understanding what you want and then to "determine if your skills and knowledge align with your employment goals so that you can fill any gaps. Leverage your expertise by presenting your skills and experience in the right resume format and build your network".
"My communication skills and knowledge of business in Canada have improved.  I have a growing personal and professional network".