Marara Zerihun Abebe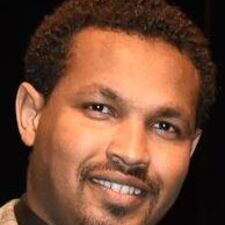 IT - Application Development Stream
eLearning Analyst
University Health Network
When Marara Zerihun Abebe immigrated to Canada from Ethiopia, he came with relevant work experience in information technology (IT) in the healthcare industry as well as a Bachelor's degree in information systems and a Masters degree in Health Informatics. He knew he wanted to land an equivalent IT role in the healthcare industry in Canada, but discovered it wasn't an easy journey to integrate into the Canadian workplace.
"I knew I had the background both in terms of IT and healthcare experience when looking for an IT position in healthcare in Canada, but the difficult part was not having any Canadian education or work experience," says Abebe. "That was very tough and required by many employers in Canada. Everyone asked about Canadian experience or credentials during my job interviews."
Building a Canadian base
Knowing he needed some external support, he enrolled in the York University's Bridging Program for Internationally Educated Professionals (IEP).
"I started looking for a bridging program and York University was a perfect match for me," says Abebe. "I also decided to do some volunteering, which would give me access to the Canadian workplace environment."
After joining York's bridging program, Abebe added it to his resume and was surprised by the immediate impact it had with employers.
Abebe also deliberately set out to find a volunteer role in the sector where he ultimately wanted full-time employment. He'd found himself in competition with three to four other people for a volunteer role in the IT department at University Health Network.
'As soon as I put the fact that I was enrolled in York's program on my resume, employers responded differently," says Abebe. "They were interested that I was studying in Canada. I think it also was the key to securing a volunteer position at Toronto's University Health Network. I believe my enrollment to York University paved the way for my career."
Immediately applying what he learned, leading to full-time employment
What Abebe learned at York was not theoretical, it was practical and he immediately began applying it to the volunteer role he had in the IT department at University Health Network.
"I began applying all of the knowledge and techniques I'd learned from York into the volunteer role," says Abebe. "When I saw a problem that I could solve, I proposed solutions and this was very well received. They were impressed and it led to securing a contact position, which later became a full-time role. It was good progress and enabled me to achieve my goals."
Difference in business cultures
Abebe was struck by the difference in business culture between Canada and Ethiopia, which is something that many Canadian business managers wouldn't always think about.
"In Canada, everything is more self-directed, where you have a project to finish and you push yourself along to get things complete," says Abebe. "In Ethiopia, if you are a developer, your manager tells you what to do every day. Whereas in Canada, you need to be more proactive and push things along. That is a very big difference. The underlying technical issues are the same in Ethiopia and Canada, but how you manage yourself is very different."
Abebe was able to gain his Canadian employment as an eLearning analyst at University Health Network with the help of having gained a good understanding of the Canadian business culture through York's business program, and also by converting a volunteer position in the healthcare field into a full-time position.
"We had a need to develop parts of a new HR system, such as report writing, and we felt it would be a good fit for Marara's technical skillset," says Venita Indewey, Director of Organization and Employee Development at University Health Network. "He has great IT skills has done some great work with the reports and the functionality that he was working on, which has led to a full-time position at University Health Network."
"We've had some really good experience with internationally educated professionals," Indewey adds. "As an organization, the cross section of people internationally working here is very significant and we've all benefited from this diversity."
Bridging the Gap and Leveraging A Volunteer Position into Full-Time Employment