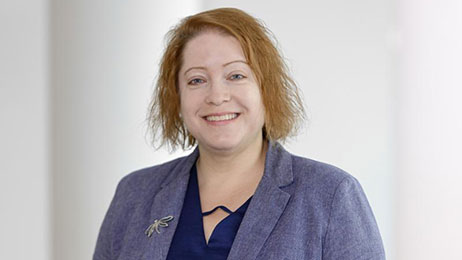 Criminology professor and Foundations Co-ordinator Dr. Natasha Tusikov's research and commentary is in high demand. Her prodigious output of late includes an appearance on The National news program, in an article with Global News, and authoring and co-authoring a series of articles with CIGI – The Centre for International Governance Innovation – an international think tank on global governance.
In case you missed her appearance on The National on February 01, 2022, you can view the segment on YouTube. The story begins at 8:35 and Natasha's comments on the crowdfunding of the protestors in Ottawa start at 10:43.
Recent articles
Will War Propel or Delay the Global Push to Reform Social Media?
Globally, Russian disinformation and propaganda now confront facts and evidence of war crimes gathered by journalists and non-governmental organizations. The lasting impact on internet regulation and speech online remains to be seen.
Ten Years After the Internet "Blackout" Protests, What Have We Learned?
Ten years ago this month, the world witnessed the largest online protest in history.
CIGI, 25 January 2022. Authored by Natasha Tusikov.
The dark side of social media: What Canada is — and isn't — doing about it
Does the government have a responsibility to protect children from the dark side of social media? Some parents and experts think so.
Global News, 12 January 2022. Authored by Rachel Gilmore.
Battling the Myths of Internet Regulation as We Consider the Next Iteration of Bill C-10
Had it become law, the bill would have expanded the Broadcasting Act, which already covers the radio and television industries, to apply to companies transmitting programs over the internet.
CIGI, 17 January 2022. Co-authored with Blayne Haggart.
And, in case you missed her three-part series, also at CIGI…
Resetting the Debate on Regulating Social Media: Part One
The dissolution of Parliament pulled the plug on an ambitious and controversial series of proposals to regulate the actions of digital media companies and their users. But this reset also offers an opportunity to consider how the next government should regulate these platforms.
CIGI, 08 September 2021. Co-authored with Blayne Haggart.
How "Free Speech" Kills Internet Regulation Debates: Part Two
In the digital world, few ideas have been as enduring as that of the free and open internet. But in a liberal-democratic society, there's little room for debate once you've pulled the censorship pin on the free-speech grenade.
CIGI, 10 September 2021. Co-authored with Blayne Haggart.
Regulating the Digital Economy in Three Parts: The Conclusion
Canada's next federal government should regulate social media companies in the context of a more general focus on the broader digital economy and digital society, as part and parcel of the wider economy and society
CIGI, 13 September 2021. Co-authored with Blayne Haggart.
Follow Natasha Tusikov on Twitter.