Trailblazing first-generation York students share their experiences with equity, community and their peers in a new book
Lucy Horvath (BA '06) was volunteering at St. Christopher House, an agency serving diverse communities in West End Toronto, when her colleagues recommended that she apply to a unique access program at York for first-generation students. She had no idea what these older women could see in her – leadership that could be augmented by higher education – but today, the successful businesswoman is glad she followed their advice. The Bridging the Solitudes program opened a window to post-secondary education and endless possibilities.
"If I hadn't gone to university," Horvath says, "I would not have pushed it, because I wouldn't have known what it could give me. Those four years – what I got out of them was a lot."
Now the co-owner and manager of a thriving Toronto landscape design and construction business she runs with her husband, Horvath wasn't the only student to benefit from the Bridging the Solitudes program, which in 2002 admitted two cohorts of nine students from marginalized communities across the city to a three-year CURA (Community University Research Alliance) developed by York University in association with Seneca College, four labour unions and 10 community partners. The goal of this unique project was "to bring to university and college young people who are under-represented in higher education and experience barriers to entering key occupations and professions." Funding came from a variety of sources, including the Social Sciences and Humanities Research Council of Canada (SSHRC). All who were selected to participate in the project had the desire and ability to succeed at university but, due to a variety of personal factors and systemic barriers, found it extremely difficult to pursue post-secondary study.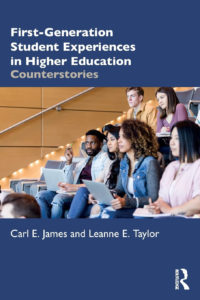 For professor Carl James (PhD '86), and his then research associate Leanne Taylor (MA '99, PhD '06), the program presented a unique opportunity to study the impact of higher education on first-generation students and their communities.
His observations, compiled over 20 years, have just been published by Routledge. First-Generation Student Experiences in Higher Education: Counterstories features the accounts of eight students who were the first in their families to attend university, participants in a program that was designed – in many ways as an "intervention" – to support young people who might otherwise have been unable to attend because of their social, cultural or financial circumstances.
A sociologist by training, James holds the Jean Augustine Chair in Education, Community and Diaspora in the Faculty of Education, and is the senior advisor on Equity and Representation in the division of Equity, People and Culture at York University. Once he became involved in the Bridging the Solitudes program, he wanted to provide an opportunity for students who could succeed in university but would require support, even beyond their financial needs. That support included partial scholarships and the infrastructure for the students to see them through to graduation. "I work with youth, and I'm very interested in that whole process of learning and how youth become the people they are," says James, recipient of the 2022 Killam Prize for Social Science, which the Canada Council awards to Canadian scholars making significant contributions to their fields.
His new book, co-authored with Taylor, presents several stories of students who participated in that support program at York. It highlights their various strategies, challenges and successes, as well as their complex relationships with community, family and other networks that were essential in shaping their lives and career trajectories.
Read the full article written by Neil Armstrong in the Fall 2022 issue of York U Magazine.