The School of Public Policy and Administration (SPPA) held its SIXTH annual Municipalities of the Future Symposium in-person at York's Second Student Center on March 22, 2023. This year's theme, "City Building in Challenging Times: Looking Back, Thinking Forward," showcased inspiring panels ranging from housing policy, workforce equity, to Ontario's strong mayors legislation. Welcoming remarks and the introduction of the keynote speaker were given by Lisa Philipps, Provost & Vice-President Academic.

With more than 180 participants in attendance throughout the day, municipal employees, non-profit managers, community leaders, provincial public servants, students and faculty listened to and participated in discussions on the challenges in local governance today, including how all levels of government must work together, and the role of community partners in establishing an engaged, diverse, and responsive public service. Agility, accountability, sustainability, and vision permeated the discussions around new approaches to acting on pressing policy priorities with a renewed focus on equity, diversity and inclusivity as integral to a healthy workforce.

Jason Thorne, General Manager of Planning and Economic Development for the City of Hamilton, captured the general theme of 'doing more, with less,' in his keynote address "City Building in a Mid-Sized City." Thorne spoke to the reality of working with smaller budgets, and still creating vibrant, forward thinking cities. He stressed that accountability and sustainability in city planning, where staff, politicians, and the community come together and make smart decisions for all, can bring about vibrant and livable cities. As quoted by Thorne in his keynote, "The co-creators are the 'committed entrepreneurs, artists, performers, organizers, and concerned citizens-who make things, and make things happen.'"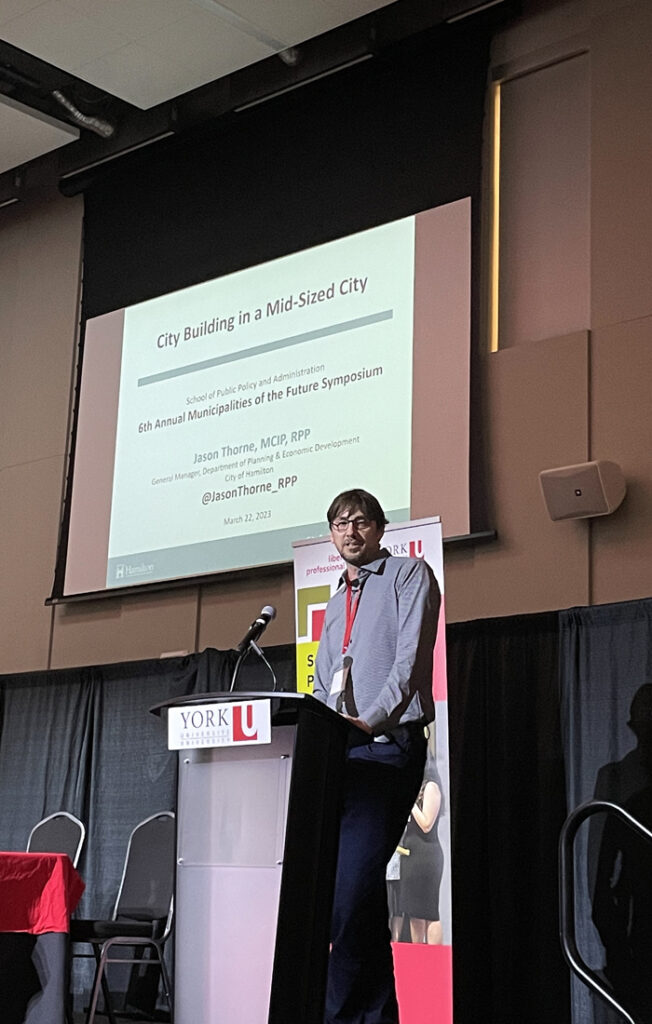 Jason Thorne delivered the keynote address
Four panels brimming with insight and expertise on local governance took place before and after lunch. Provincial policy direction for more housing: How are municipalities responding? Was facilitated by Piragal Thiru, a public sector leader and MPPAL alumnus, and featured Steve Ganesh, Commissioner of Planning, Building and Growth Management, City of Brampton, as well as, Paul Freeman, Chief Planner with the Regional Municipality of York. The second panel, Building the Bridge As You Walk It: Reconciliation, Equity, Inclusion and Diversity—you can't afford to get this wrong! Was moderated by Professor Naomi Couto (SPPA Director) with panelists, Zincia Francis, Diversity and Inclusion Officer, City of Vaughan, Rumina Morris, Director, Anti-Racism and Anti-Oppression, City of London, and Hali Farah, Manager, Diversity & Inclusion, City of Toronto. After an opportunity to network over lunch, a third panel moderated by SPPA Professor Zachary Spicer, (who will be leading MPPAL's municipal stream at York University's new Markham campus in the Fall of 2024), Strong Mayors. Weak Council and Staff? The Implications of Recent Legislation on Municipal Governance in Ontario, featured Shirley Hoy, Senior Advisor with StrategyCorp Inc., Harkirat Singh, Deputy Mayor in the City of Brampton, and David Arbuckle, executive Director, AMCTO. The fourth panel, Transformation for Tomorrow—Enabling Innovative Municipal Service Delivery, was facilitated by Asare Kester-Akrofi, Manager, MPPAL alumnus and Office of the Deputy City Manager(s) Infrastructure & Development Services & Corporate Services, City of Toronto, with his panelists, Marco Palermo, Deputy Chief Technology Officer, City of Toronto, and Cielo Medel, Director IT & Chief Information Officer, City of Mississauga.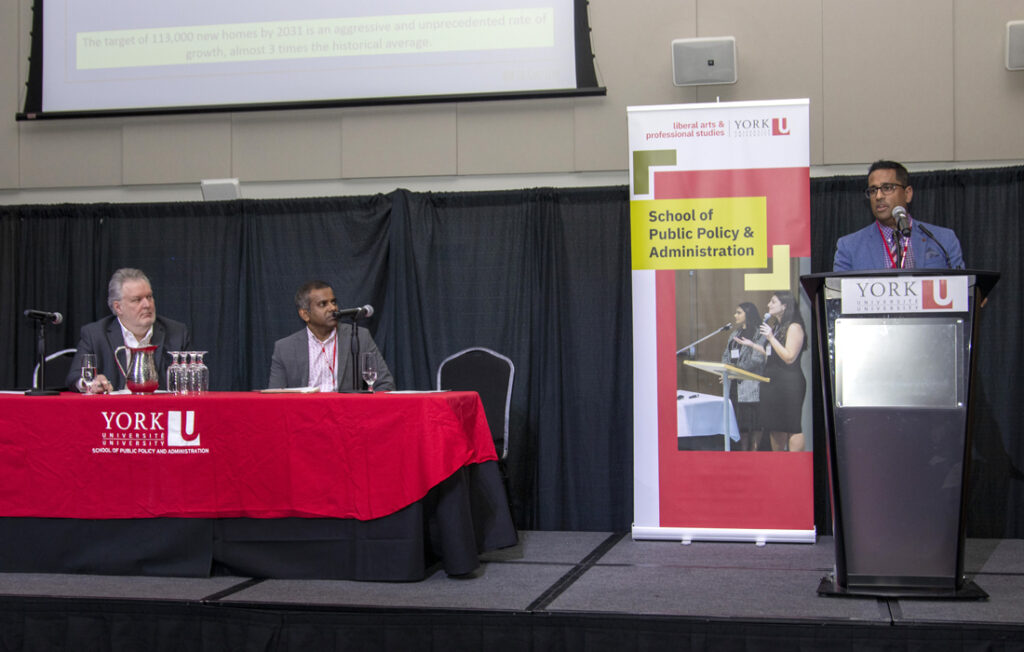 From Left; Paul Freeman, Steve Ganesh, and Piragal Thiru
The successful day of panels ended with a round-table discussion moderated by David Fulford, Chief Administrative Officer, IPAC National, where panelists Steven Del Duca, Mayor of Vaughan, Marcia Wallace, CAO at The Corporation of the County of Prince Edward, and Victor Severino, VP of Business Enablement at the WTC of the Toronto Region Board of Trade, reflected on 'Looking Forward: Governing Municipalities in Uncertain Times.' This stellar group of leaders and experts in the area discussed the new political and economic realities in local governance.

The event was co-sponsored by the Association of Municipal Managers, Clerks and Treasurers of Ontario (AMCTO) and The Institute of Public Administration of Canada, Toronto Region (IPAC). A full listing of speakers and bios can be found on the event description page.
From Left; David Fulford, Steven Del Duca, Marcia Wallace, and Victor Severino.