The Melville-Nelles-Hoffmann Environmental History Lecture is an annual speaking event hosted by the Department of History at York University. It is generously supported by two of the History Department's founding environmental history professors, H.V. Nelles and Richard Hoffmann and it honours the memory of the late Elinor Melville, our colleague and leading researcher in the field of Mexican environmental history.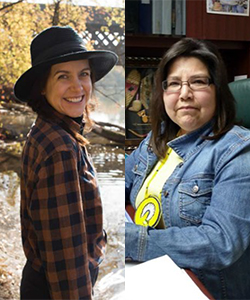 2021 Melville-Nelles-Hoffmann Lecture
Dammed: The Politics of Loss and Survival in Anishinaabe Territory
March 5, 2021
Brittany Luby is an award-winning, interdisciplinary historian who seeks to stimulate public discussion of Indigenous issues through her critical and creative work. The Canadian Historical Association has described Luby's research as "innovative in its structure and responsive to Indigenous research methodologies." Her current research is focused on Anishinaabe ecologies and crop restoration in the upper Winnipeg River drainage basin and is being conducted in partnership with Niisaachewan Anishinaabe Nation and Dr. Andrea Bradford in the School of Engineering at the University of Guelph
Chief Lorraine Cobiness has over a decade of experience as Chief of Niisaachewan First Nation. From her position, Cobiness sets research priorities, reviews progress reports, and establishes objectives for research dissemination and use on collaborative projects. She has experience partnering with industry and government to manage the Kenora Forest. She is keen to apply these relationship-building and negotiating skills to water management in the upper Winnipeg River drainage basin.
Register in advance for the webinar:
https://yorku.zoom.us/webinar/register WN_zO79AcTcSPqhUr-7YheoWw
Past Events