Kamal Ahmed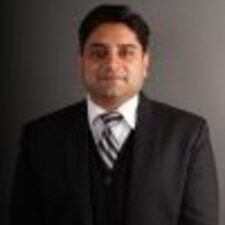 IT - Systems Analysis Stream
Senior Business Analyst (Cyber Security)
Rogers Communication Inc.
Kamal Ahmed immigrated to Canada with his wife and two young children in 2014 as part of the Feder Workers program. An experienced professional who had worked for the Government of Pakistan as a Senior Project Manager in the Ministry of IT & Telecom, he hoped he would get work quickly. However, after arriving, he noticed he was not getting calls for interviews, despite actively submitting his resume to many recruiters and companies.
Kamal then decided to apply to the York University, IEP Bridging Program, and says, "it has played a significant role in my professional career by enhancing my education, skills and awareness of Canadian culture". "The Bridging Program is very well structured, covering Canadian Workplace Culture and Communication as well as advanced level professional subjects like Business Case Writing, Managing Financial ERPs and Project Management", he explains.
"Success is the combination of continuous hard work leading in the right direction. It means ongoing improvement in education, continuous efforts to network and keeping a strong focus on where you want to be. Along with this you must learn how to apply for the right jobs relevant your experience and education" explains Mr. Ahmed. "As an immigrant we have opportunities as well as challenges, it totally depends on how we compete with these challenges that leads us to the success we want to achieve," he stated.
Kamal now feels settled in his new career in Canada after succeeding in finding a role first at BMO and then at Rogers Communications as a Senior Business Analyst.
Immigration to Canada & Job Hunting
Kamal Ahmed came to Canada in 2014 he had extensive professional and academic experience. Kamal had already achieved an MBA (IT) from the Hamdard University Pakistan, a Bachelor of Commerce (B.Com) from the Punjab University and international training in E-Services from Tokyo Japan. He was also certified in Project Management Professional (PMP) from Project Management Institute USA and brought with him over 10+ years of professional experience.
Immediately after arriving in Canada he started submitting job applications for positions in Project Management, and despite being optimistic at first he then noticed there was no response from employers or recruiters. After 1 year of trying this route, he got his first interview with a financial institution, and despite his interview going well, he was not selected for the position, "I was informed that they found a better candidate and that one possible reason was my lack of local experience", Kamal explained.
After these setbacks Kamal was determined first to accept any opportunity he got including survival jobs such as food deliveries and security. "All these jobs helped me to improve my communication and Canadian cultural awareness" he explained.
Finding the Bridging Program, York University.
Kamal then decided to join the IEP Bridging program, the program he says, "provided me with a platform to network with other professionals from around the Globe who came with diverse sets of work experience, culture & educational backgrounds". The program also provided useful workshops including how to use social media sites like LinkedIn for professional networking, workshops on tips for successful job searching and other specialised skill training such as Business Case Writing, QuickBooks, MS Project and SAP.
Moving in the right direction
While studying at York University part-time in the evenings Kamal kept on applying for the right opportunities, attending networking events and was continuously expanding his learning by participating in workshops and pursing certifications. Kamal also saw volunteering as an important strategy in his job search and volunteered with the Project Management Institute (PMI), Lakeshore Chapter to help him gain local relevant work experience.
My Success - Social Media
Kamal found his career success in his current job with Rogers Communication Inc. as a Senior Business Analyst (Cyber Security). He continues to apply what he learned and is still growing his network and has taken up a new volunteer role as a mentor with a Project Management Group in Mississauga.
"I leveraged what I'd learned in the bridging program and got my first job as Business Analyst at BMO Financial Group, Toronto", he said. LinkedIn played a key role in connecting him with the employer and more opportunities have continued to arise. Kamal explained that he got his first job after being here over a year, and: "Now each month I am getting 2 to 3 calls for job interviews. It's very true that Canada is the land of opportunities, however the foremost barrier for a new immigrant is to get their first professional job".