Wasif Noorani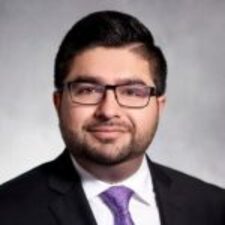 Business - Accounting Stream
Vice President
BMO Captial Markets
Wasif Noorani came to Canada in 2009 after graduating from Accounting at Heriot-Watt University in Dubai. Originally from Pakistan, Wasif grew up and went to school in Dubai and had a few years of internship experience in Accounting before emigrating.
Like many internationally educated professionals (IEPs), Wasif hit some bumps in his career progression when he first arrived: "I was training to be an Accountant and had interned as an Accountant in Dubai before coming to Canada. That was the area I wanted to work in here in Canada. But it was challenging. The Accountant designation I was pursuing didn't seem to be seen as very valuable here. I was halfway through studying for my Association of Chartered Certified Accountants (ACCA) qualification and I realized I was stuck with either having to complete the full designation without any support or guidance or I would have had to abandon the designation altogether and start from scratch with a Canadian accounting designation."
Wasif decided to initially pursue the qualification and took a few ACCCA exams in December 2009 and June 2010. As he was coming home from one of the exams, he saw a York University IEP Bridging Program advertisement. He decided to stop into the office and "spoke to David. I still remember his name because he was very helpful. He guided me to apply." It was a tipping point for Wasif: "I was part of the second or third program cohort and what I realized was that by being part of the program I would pursue and take on the courses that I needed to get my CMA/CPA designation."
Wasif dove in. While working full time in a Call Centre, he pursued full time studies. He was driven to complete the program as soon as possible to get back on track with his career: "I finished the IEP program in a year. Perhaps I should have taken the program slower; it was a struggle for a year, but has helped me to get where I am. I have no regrets, glad I joined the program, perhaps one of the best decisions I've made in the past few years."
The program led him to BMO, where he continues to be employed. "The reason I'm with BMO is because I got introduced to them through CareerEdge, which offers internships for new immigrants. York University Bridging program was working with and promoting CareerEdge. I started off at BMO as an intern for six months. The internship led to full time employment. I've been with BMO for almost seven years, now in senior management."
Wasif says that beyond connecting him to other supportive organizations like Career Edge, "the program was important to help gain an understanding of the Canadian market. You get to network with people across the program and faculty. It helps to build networks that most new immigrants don't have yet. Having that network helps to guide, support and mentor you. The program instills the idea of networking. How you take it and implement it is entirely up to you. But the program guides you to understand the importance and power of networking, Canadian work culture and the Canadian workplace." He's still connected to some students he met in the program, who also work in the financial sector. He says it has been useful to have that network as someone new to the country and building new connections.
His advice for other IEPs: "Continue working hard and focus on the positive. I actively promote the program to whomever I meet. It is tough initially managing work, studies, family life and getting adjusted to a new country, but I would say that the program pays off. The program helps if you're pursuing a designation but also for the soft communication skills and networking."
Wasif's advice for employers it so recognize IEPs as the assets they are: "In my point of view, IEPs tend to be a lot harder working and more motivated to succeed. The struggles they faced made them stronger, taught them lessons." He also says that having a diversity of thought providing different points of view and perspectives only helps an employer. "In Canada, our strength is diversity. Having people with experience in different companies, countries, areas of life adds value to the team and the job itself."
Wasif achieved his goal of becoming an Accountant in Canada. A CMA/CPA, he is also a Certified Anti-Money Laundering Specialist (CAMS) and Certified Internal Auditor (CIA). Ever focused on improvement and career growth, he is currently pursuing his MBA online with the University of Manchester.