Please join us as we celebrate the release of new publications by some of our faculty and graduate students.
Wednesday, January 25, 2023; 12-2 p.m.
Zoom link: https://yorku.zoom.us/j/93749700015?pwd=RDk2RlU0NTdIa0VpRE9nTzJ4SFZPUT09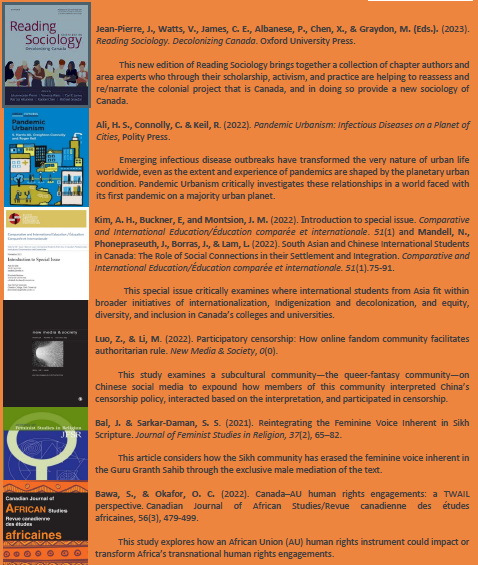 Jean-Pierre, J., Watts, V., James, C. E., Albanese, P., Chen, X., & Graydon, M. (Eds.). (2023). Reading Sociology. Decolonizing Canada. Oxford University Press.
This new edition of Reading Sociology brings together a collection of chapter authors and area experts who through their scholarship, activism, and practice are helping to reassess and re/narrate the colonial project that is Canada, and in doing so provide a new sociology of Canada.
Ali, H. S., Connolly, C. & Keil, R. (2022). Pandemic Urbanism: Infectious Diseases on a Planet of Cities, Polity Press.
Emerging infectious disease outbreaks have transformed the very nature of urban life worldwide, even as the extent and experience of pandemics are shaped by the planetary urban condition. Pandemic Urbanism critically investigates these relationships in a world faced with its first pandemic on a majority urban planet.
Kim, A. H., Buckner, E, and Montsion, J. M. (2022). Introduction to special issue. Comparative and International Education/Éducation comparée et internationale. 51(1) and Mandell, N., Phonepraseuth, J., Borras, J., & Lam, L. (2022). South Asian and Chinese International Students in Canada: The Role of Social Connections in their Settlement and Integration. Comparative and International Education/Éducation comparée et internationale. 51(1).75-91.
This special issue critically examines where international students from Asia fit within broader initiatives of internationalization, Indigenization and decolonization, and equity, diversity, and inclusion in Canada's colleges and universities.
Luo, Z., & Li, M. (2022). Participatory censorship: How online fandom community facilitates authoritarian rule. New Media & Society, 0(0).
This study examines a subcultural community—the queer-fantasy community—on Chinese social media to expound how members of this community interpreted China's censorship policy, interacted based on the interpretation, and participated in censorship.
Bal, J. & Sarkar-Daman, S. S. (2021). Reintegrating the Feminine Voice Inherent in Sikh Scripture. Journal of Feminist Studies in Religion, 37(2), 65–82.
This article considers how the Sikh community has erased the feminine voice inherent in the Guru Granth Sahib through the exclusive male mediation of the text.
Bawa, S., & Okafor, O. C. (2022). Canada–AU human rights engagements: a TWAIL perspective. Canadian Journal of African Studies/Revue canadienne des études africaines, 56(3), 479-499.
This study explores how an African Union (AU) human rights instrument could impact or transform Africa's transnational human rights engagements.
All are welcome!