In Professional Writing, you don't have to wait until after your degree to pursue your dreams. Sashoy Wilson reflects on her co-curricular learning adventures as an English & Professional Writing (and Linguistics!) Major.
I'm Sashoy Wilson, a mature student, a linguist, editor, web designer, and rhetorical advocate currently on exchange in Korea. Though I am still hesitant to call myself a linguist, I am quick to call myself an editor, digital designer, and rhetorical advocate.
I started my adventures at York in 2018 as an English major. In the summer of 2020, I switched from an English degree to an English and Professional Writing specialized honours degree alongside a Linguistics degree. Though adding Professional Writing meant that I would need to stay at York for two additional years, it has proven to be the best decision.
The Professional Writing program might be relatively small, but it's a powerhouse. The professors are approachable and innovators in their fields. The courses are stimulating and varied. I've immediately applied the critical thinking, design and communication skills and tools I've gained in the program in both my personal and professional life.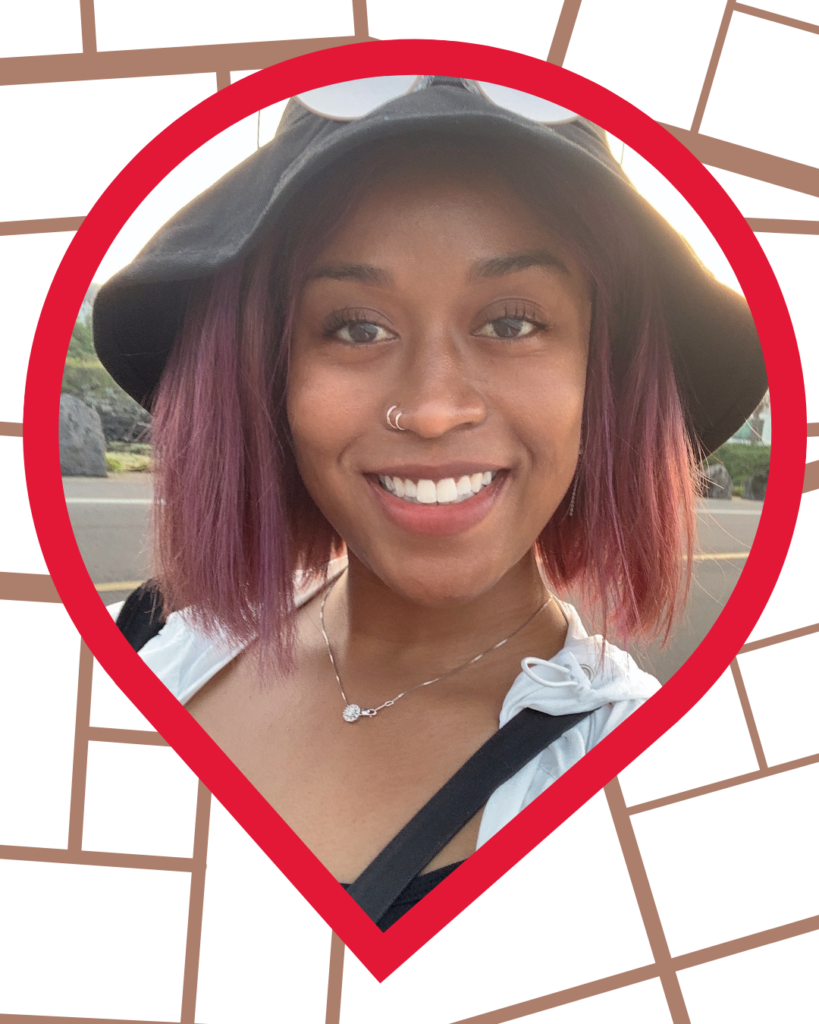 In the summer of 2020, after my first digital authoring course (WRIT2004, Writing in Digital Cultures), I co-created a book review and editing website, My Book Jar. In 2021, during WRIT1003, Professional Writing: An Introduction, I wrote a piece that I later presented at the Professional Writing Students' Association's (PWSA) Third Annual Undergraduate Symposium, "Liminalities." This was the first time I wrote for the public, the first time I felt confident sharing my writing, and the first time I wrote to inform and enact change.
I've grown professionally within and outside York's walls with every professional writing course and co-curricular adventure. As the PWSA's Symposium Director in 2022, I coordinated the event and designed the website for the Fourth Annual Symposium, "Metanoia." As the Editor-in-Chief of the PWSA's webzine Inventio, I designed the website and, with my Assistant Editor-in-Chief, created a Style Guide, Editorial Stages, Submission Guidelines and more. Outside York, I've worked as an editor and a sensitivity/authenticity reader, evaluating writing to ensure an accurate representation of identities or experiences for an educational hair and beauty industry publisher and a local Cambridge quilting website, Memory Quilts Cambridge.
The program might be relatively small, but it's a powerhouse.
Writing and designing with the audience in mind, applying design principles, and combining my linguistic and design knowledge has been interesting experience. As an editor, designer, and advocate, I am always thinking of the implicit and explicit impacts words can have on audiences. As a linguist, I think about how I can use linguistics to break down systems held up by language and rhetorical structures. I also have a much better understanding of how language is represented, accessed, processed, and understood; how it goes beyond the context of proper grammar usage and sentence structure and into word and sentence comprehension.
Adding the Professional Writing program to my English degree was the best choice I've made during my adventures at York. I have grown as a person and a professional, and the skills I've gained are impactful and immediate. Whether you join the program or take a few introductory courses, you won't regret it!