At the Writing Centre, students can reserve two 50-minute appointments each week with a judgement-free writing expert. But, now that you just booked your one-to-one appointment, what do you do next? Well, here are some tips for how to get ready!
1. Decide What Kind of Support you want Beforehand
It doesn't matter which stage you are at with the assignment: you can ask a writing expert to read your assignment guidelines with you, work through your essay arguments, ask for citation help, and a lot more! You can present anything at your appointment; even business reports or digital-based projects. It's ultimately up to the student to decide how they want to spend their appointment time.
But, before you attend your appointment, it's best to figure out which aspect of your assignment you want to work on. Sometimes, 50 minutes just isn't enough time to talk about your whole paper.
2. Upload all supporting documents necessary to help your instructor understand your assignment
You can include 1-3 documents related to your assignment with your appointment submission form! (after you log into your account). If you already submitted your form, don't worry! You can easily revisit it and add any supporting documents you might want your writing expert to read.
We strongly recommend submitting documents such as an assignment rubric and any rough drafts you might have worked on so far. Doing this can help your writing expert further understand your assignment and prepare strategies on how to support you during your appointment.
Also, make sure to upload your documents at least 24 hours beforehand to give your one-to-one instructor enough time to review the documents.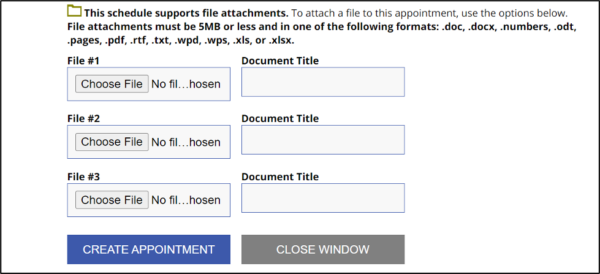 3. Wear a mask to an appointment or be in a place with a good internet connection for your in-person/online appointment.
For in-person appointments, please remember that you will working in a small room with your instructor. If your writing instructor asks you to wear a mask during your appointment, it is only courteous to do so.
If you ever want your instructor to wear a mask around you, you can always ask them to put on one as well!
If your appointment is fully online, it's a good idea to check if your environment is quiet, your speakers and microphone are working, and that your internet connection is stable.
Taking these precautions helps the appointment run seamlessly without any interruptions. Cameras are optional, though we recommend their use for remote appointments. Plus, this can all be done in the comfort of your own home!
***
Now you're ready to attend your one-to-one appointment, and one step closer to becoming a better writer! If you run out of time for your current appointment, remember you can visit us twice each week and revise your work with us in its early, middle, and late stages! Hope to see you soon!

Learn More
To learn more about one-to-one appointments, please visit our registration page. The Writing Centre's online resources will continue to grow all year! You can also visit the Writing Centre's blog!