The Faculty of Liberal Arts & Professional Studies (LA&PS) Writer-in-Residence program is aimed at supplementing existing Creative Writing courses by providing students with access to a working, professional writer for feedback and support. Additionally, the program is dedicated to engaging the broader community by developing partnerships with North York libraries, schools and community organizations to connect our Writer-in-Residence with off-campus populations.
On this page:
How the Program Works
York University's Department of English hosts a Writer-in-Residence for each of the Fall and Winter terms.
Writers-in-Residence are esteemed authors of poetry, fiction and nonfiction who spend their time equally between service to the York community and working on their own book-length creative projects.
Four meetings per week are available by appointment through Calendly. Submissions of a maximum of three poems or twelve pages of prose are due at least ten days prior to each meeting.
Writers-in-Residence are available for manuscript consultations, which might include editorial feedback and suggestions toward publication with students, faculty, staff, alumni and members of the broader York community.
They will also host four public-facing events per term, such as readings, workshops, craft talks, panel discussions, seminars, classroom visits, field trips, among other activities that share their expertise and knowledge as a working writer in Canada.
Meet our Fall 2023 Writer-In-Residence: Shyam Selvadurai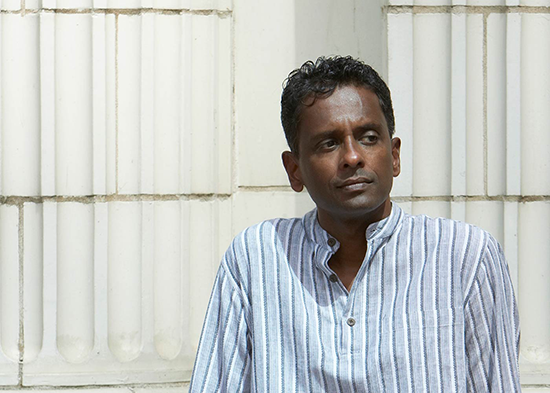 Shyam Selvadurai was born in Colombo, Sri Lanka, in 1965. He came to Canada with his family at the age of nineteen. He has studied creative writing and theatre and has a BFA from York University, as well as an MFA in Creative Writing from the University of British Columbia.
Funny Boy, his first novel, was published to acclaim in 1994 and won the WH Smith/Books in Canada First Novel Award and in the US the Lambda Literary Award. It was also named a Notable Book by the American Library Association, and was translated into 8 languages.
His second novel, Cinnamon Gardens, was published in Canada, the UK, the US and translated into 9 languages. It was shortlisted for Canada's Trillium Award, as well as the Aloa Literary Award in Denmark and the Premio Internazionale Riccardo Bacchelli in Italy.
Shyam is the editor of an anthology, Story-Wallah: A Celebration of South Asian Fiction, published in Canada and the US. His novel for young adults, Swimming in the Monsoon Sea, was shortlisted for the Governor General's Award and is the winner of the Lambda Literary Award in the US, the Canadian Library Association Book of the Year Award and Silver Winner in the Young Adult Category of ForeWord Magazine's Book of the Year Award.
His articles have appeared in numerous publications, including The New York Times, Time Magazine, Toronto Life, Walrus Magazine, Enroute Magazine, The Globe and Mail and the Toronto Star. He served as Festival Curator for the Galle Literary Festival for 2 years. His fourth novel, The Hungry Ghosts, was published April 2, 2013 in Canada, India and Sri Lanka. It was shortlisted for Canada's prestigious Governor General's Award for Fiction and longlisted for the DSC South Asia Literature Prize. His latest work is a comprehensive anthology of Sri Lankan literature, Many Roads Through Paradise.
Shyam co- wrote the screenplay for his first novel Funny Boy, for which he won the Canadian Screen Award and the New York Cinema Independent Award for Best Adapted Screenplay. Shyam's new novel Mansion of the Moon is a historical novel about the Buddha's wife, Yasodhara.
In 2016, Shyam had the interesting honour of having a spider named after him: Brignolia shyami, a small goblin spider.
Past Writers-in-Residence

Questions?

Feel free to contact Pasha Malla at pmalla@yorku.ca, Associate Professor, Creative Writing with any questions about the LA&PS Writer-in-Residence program.