Our faculty members are among the leading voices in their fields. Their ground-breaking research and creative works have taken many forms, including novels, works of literary criticism, edited anthologies, public lectures, documentary films, and poems. True to the spirit of interdisciplinary, creative, and politically engaged inquiry that has long been central to York University's mission, these publications have earned plaudits from audiences around the world. Learn more about some of our recent publications by browsing the book covers below.
Quick Links
Featured Publication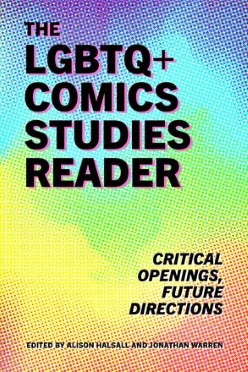 Alison Halsall and Jonathan Warren
The Reader honours work that emerged from and was influenced by the underground and alternative comix movements of the mid-1960s to become what is still an underrepresented sub-genre in comics scholarship: lesbian, gay, bisexual, transgender and queer (LGBTQ+) comics, their provocative current iterations and their future directions. It traces the connections of LGBTQ+ comics from the panel, the strip, the comic book, the graphic novel, the anthology and the graphic memoir to the many different kinds of queer readership they imagine, the LGBTQ+ history they make visible, the often fragile LGBTQ+ distribution networks their availability implies or seeks, the coded queer intelligence they deploy, and the community-sustaining energy and optimism they conjure.
Search our Publications