The LGBTQ+ Comics Studies Reader: Critical Openings, Future Directions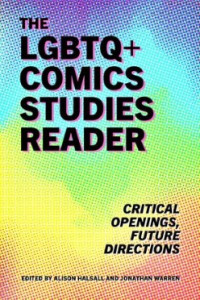 Jonathan Warren, Alison Halsall
Year of Publication: 2022
Publisher website

New book attends to global scope of LGBTQ+ comics criticism.
York University Faculty of Liberal Arts & Professional Studies (LA&PS) Professors Alison Halsall (Department of Humanities) and Jonathan Warren (Department of English) have published The LGBTQ+ Comics Studies Reader, the first book of its kind, with the University Press of Mississippi.
The Reader honours work that emerged from and was influenced by the underground and alternative comix movements of the mid-1960s to become what is still an underrepresented sub-genre in comics scholarship: lesbian, gay, bisexual, transgender and queer (LGBTQ+) comics, their provocative current iterations and their future directions. It traces the connections of LGBTQ+ comics from the panel, the strip, the comic book, the graphic novel, the anthology and the graphic memoir to the many different kinds of queer readership they imagine, the LGBTQ+ history they make visible, the often fragile LGBTQ+ distribution networks their availability implies or seeks, the coded queer intelligence they deploy, and the community-sustaining energy and optimism they conjure.
The volume's collection of comics criticism brings together important critical voices that speak to the range and diversity of queer texts, creators and approaches in this growing field.
Generously illustrated throughout, it features contributions from key comics scholars from North America and around the world (including Michelle Ann Abate, Hillary Chute, Ramzi Fawaz, Sheena Howard), as well as creative work by preeminent queer comics artists, Alison Bechdel, Jennifer Camper and Justin Hall. Long-form interviews with major LGBTQ+ comics illustrators (with illustrations) and leading critics map out the past, present and future of the field by way of dynamic conversations. The Reader attends to the global scope of LGBTQ+ comics criticism, reaching beyond the American context to take up local particularities, transnational and translocal crossings, intersections and readerships as they combine into a global queer comics scene.
Especially attentive to the creative, critical and queer community-building work of women, The LGBTQ+ Comics Studies Reader highlights LGBTQ+ comics' representation of a range of queer lived experience.
In addition to an expansive general introduction and four-section introductions by the editors, the Reader showcases 18 chapters that explore a range of approaches to LGBTQ+ comics – queer history, gender and sexuality theory, memory studies, graphic medicine, political activism, genre studies, biography, young-adult literature and more – and speaks to the diversity of publishing forms and media that shape queer comics and their reading communities.
Warren has been teaching undergraduate and graduate courses on comics for the past two decades at York. Halsall's interdisciplinary teaching regularly incorporates comics, and her recent monograph on world "crisis comics" is under contract with Ohio State University Press.