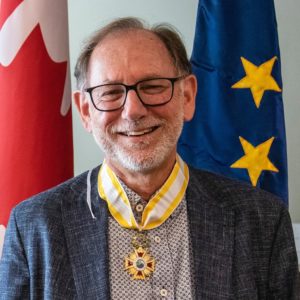 Congratulations to Professor Emeritus Adrian Shubert who received the "Encomienda de la Orden de Isabel La Católica"—a prestigious medal granted by His Majesty King Felipe VI of Spain—for contributions to the field of Modern Spanish History. Congratulations on the presentation of this extraordinary honour.
The following excerpt is taken from the Sept. 28 Issue of LA&PS Research Digest
"Prof. Adrian Shubert is a University Professor Emeritus in the Department of History at York University. He is a historian of Spain in the 18th through 20th centuries, and his articles and books have been published widely in both English and Spanish.
Prof. Shubert was recently honoured with a Special High Decoration from His Majesty the King of Spain. His Excellency Alfredo Martinez Serrano, Ambassador of Spain to Canada presented the medal "Encomienda de la Orden de Isabel La Católica" (Commander of the Order of Isabel La Católica) to Prof. Shubert on September 16, at the conference "Modern Spanish History in Global Perspective: A Conference in Honour of Adrian Shubert," held at the Archives of Ontario at York University's Keele Campus.
'My research has focused on the social, cultural, and political history of Spain from the 18th to the 20th centuries. I have written on a variety of topics: the labour movement among coal miners, the bullfight, and a biography of the leading political and military figure of the 19th century. I have moved between archive-based monographs and synthetic essays, something which has increased the impact of my work, especially in Spain. Recently I have moved into public history, leading the team that created the world's first museum of the Spanish Civil War. In less than a week it has received significant attention in the Spanish media and elsewhere.'
The medal from the King of Spain, follows a series of others including the prestigious Killam Research Fellowship (Canada) and Guggenheim Fellowship (U.S.). Prof. Shubert has also been elected a Fellow of the Royal Society of Canada; and named Commander of the Order of Civil Merit by King Juan Carlos of Spain. Please join us in congratulating him!"