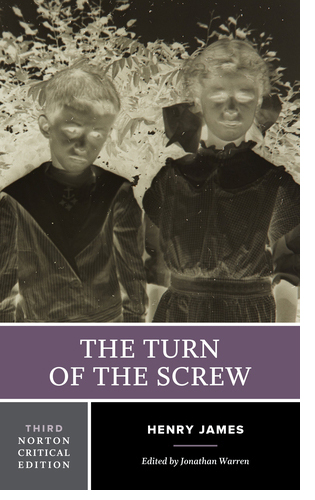 Jonathan Warren
Year of Publication: 2021
Publisher website
"This admirable new and expanded Norton Critical Edition, with its judiciously selected and expertly curated secondary materials, both historical and critical, and accompanied by Jonathan Warren's excellent introduction, is an invaluable resource for students, instructors, and scholars."
—Sheila Teahan, Michigan State University
This Norton Critical Edition includes:
The New York Edition text of the novel—the one that had James's final authority—newly and fully annotated by Jonathan Warren.
A full introduction, compositional history, and textual notes by Jonathan Warren.
Revised and expanded contextual materials, topically organized to promote classroom discussion: "James, the Ghost Story, and the Supernatural," "James on The Turn of the Screw," "Other Possible Sources for The Turn of the Screw," and, new to the Third Edition, "Adaptations and Illustrations."
Thirty-two critical assessments—from early reactions to the present day—sixteen of them new to the Third Edition.
A chronology and suggestions for further reading.
---
Jonathan Warren was one of the featured guests on the Literate podcast where he was interviewed about Henry James and The Turn of the Screw as part of Literate's consideration of the New York Public Library's "Books of the Century" list. 
Listeners can subscribe to Literate via Twitter or follow the link to listen to the podcast with Jonathan Warren: