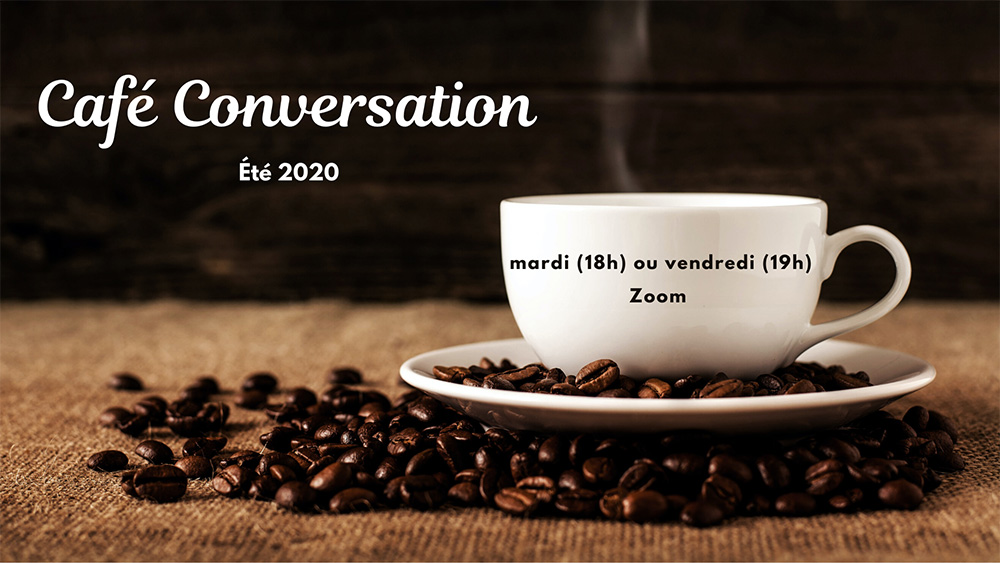 Les café conversations sont des sessions de conversation ouvertes à tous les niveaux de langue.
Pendant l'été de 2020, les café conversations se déroulent les mardis de 18h à 19h ou les vendredis de 19h à 20h sur Zoom à partir du 19 juin. Les ID de réunion seront communiqués sur les réseaux sociaux.
Horaire des rencontres pour les mois d'été :
19 juin à 19h
23 juin à 18h
3 juillet à 19h
7 juillet à 18h
17 juillet à 19h
21 juillet à 18h
31 juillet à 19h
4 août à 18h
14 août à 19h
18 août à 18h
28 août à 19h
« Café conversations » is a series of conversation sessions for students of all French language proficiencies.
During the summer of 2020, "café conversations" will be held on alternate Tuesdays and Fridays via Zoom starting on June 19, 2020. Zoom meeting IDs will be communicated in advance of the sessions on AEFFY's social media platforms.
Join us on the following days:
June 19 at 7pm
June 23 at 6pm
July 3 at 7pm
July 7 at 6pm
July 17 at 7pm
July 21 at 6pm
July 31 at 7pm
August 4 at 6pm
August 14 at 7pm
August 18 at 6pm
August 28 at 7pm
courriel/email: aeffyork@gmail.com
Facebook: https://www.facebook.com/AEFFYork/
Instagram: instagram.com/aeffyork
YUConnect: https://yorku.campuslabs.ca/engage/organization/aeffyork