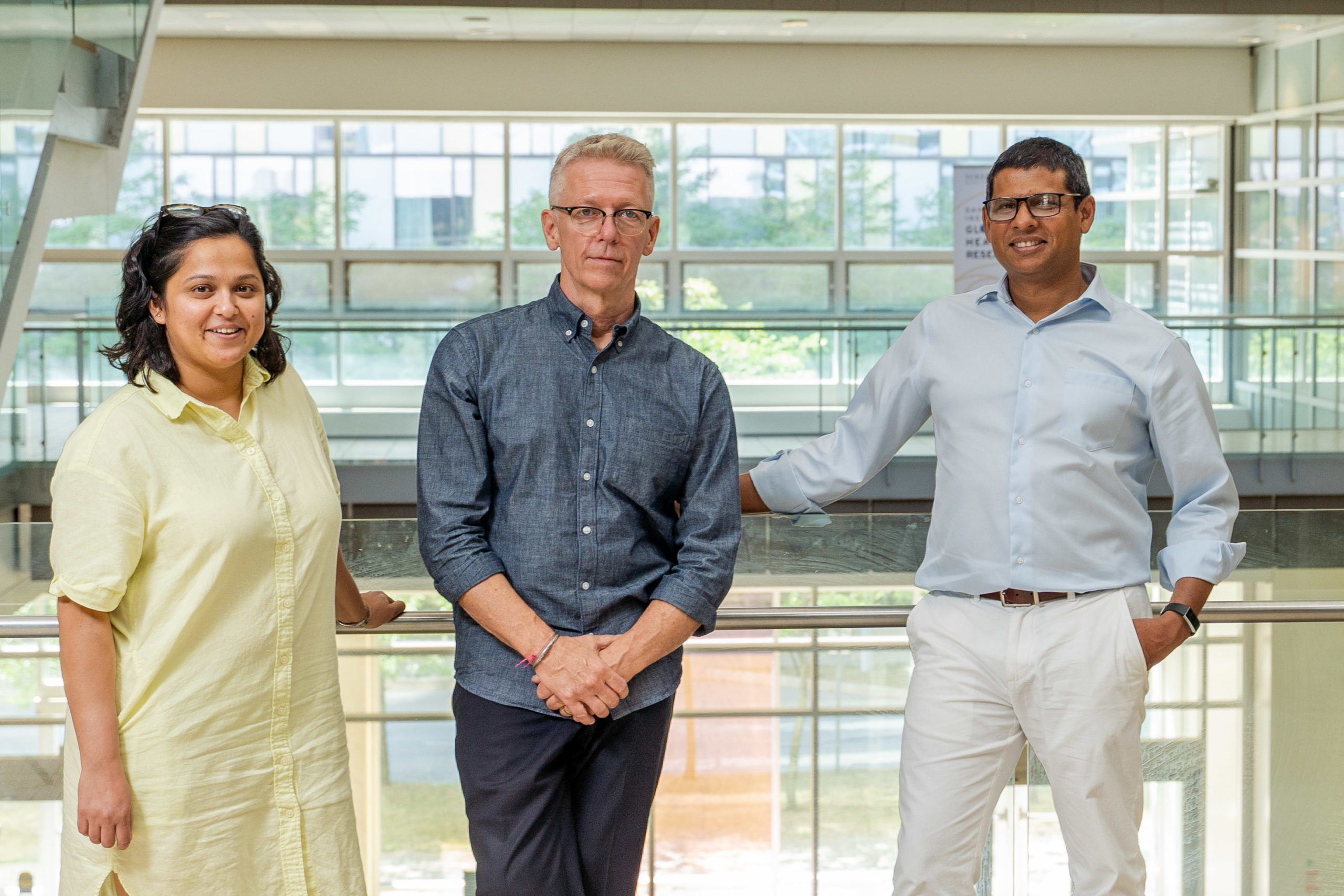 Pictured here: Byomkesh Talukder, James Orbinski and Nilanjana Ganguli
A deep dive into ocean sustainability
Planetary health is one of the three overarching research themes at York's Dahdaleh Institute for Global Health Research, calling urgent attention to the human health cost of environmental degradation and inviting deeper reflection on the relationship between human and environmental wellbeing. A ground-breaking Dahdaleh study demonstrates just how interdependent humans are with our oceans and sea life.
"We set out to establish a research agenda that would illuminate the relationship between human civilization and the biosphere," said Dr. James Orbinski, director of the institute. "It is quite clear to us in research and policy work that while there is an interdependent relationship, the biosphere will adapt and survive, but human civilization may not. We must approach the relationship to our planet with a higher degree of humility."
In the Dahdaleh study, published in the Journal of Climate Change and Health in May 2022, planetary health fellow Byomkesh Talukder and research assistant Nilanjana Ganguli, guided by Orbinski, examined the interdependency between oceans and human life and presented the findings in what Orbinski calls a "systematic, problem-solving approach that breaks through silos in academic research and policy work." In 2021, they conducted an extensive literature search and chose pertinent studies, using a predefined research protocol that included identification, screening and eligibility. They reviewed and analyzed the relevant studies to gain a broader understanding of this interdependency. 
"Understanding the causes and effects of climate change impacts on the ocean and its biodiversity and planetary health is crucial for taking preventive, restorative and sustainable actions to ensure ocean biodiversity and its services," the authors state.
Our oceans have been protecting us from the major impacts of climate change, absorbing more than 90 per cent of excess global temperature increase, and about 25 per cent of CO2 emissions. However, Talukder, Ganguli and Orbinski make it clear that climate change-induced ocean warming, acidification, and deoxygenation affect ocean biodiversity which in turn affects planetary health. There are resulting biospheric and human consequences for ecosystem services, food and nutrition security, human livelihoods, biomedical and pharmaceutical research, disaster risk management and for organisms that are pathogenic to humans. 
"Planetary health is a pretty new concept," said Talukder, "and the relationship between planetary health and the United Nations Sustainability Development Goals isn't known to many people, but it can help improve our approach to the biosphere in which we live and on which our survivability depends."  
Orbinski added, "The issue of ecological degradation is more front and centre with every passing day. When it comes to climate change, we need new approaches to adaptation and mitigation."
The team isn't simply sitting and waiting for others to take action; they are not only involved in research, but in solutions. In August 2022, they met in Malawi with a team of experts to develop tools that will help communities adapt and try to take charge of their destiny, and there will undoubtedly be other, similar gatherings.
"Our work is oriented to inform policymakers," said Ganguli. "We spent many hours collecting and synthesizing information from many sources so people can visualize it. We are trying to help people take action."
Click on the icons below to learn how York University is contributing to the United Nations Sustainable Development Goals.