Larissa Crawford is from Calgary, Alberta, and her work applies anti-racism and Indigenous knowledge to renewable energy policy and program development in Canada. Larissa served as the 2018 G7 Youth Head Delegate of Canada, where she lobbied successfully for Indigenous worldviews and the UN Sustainable Development Goals in the G7 Summit, which launched her into government and policy work. Larissa has since worked with the Government of Ontario as an Indigenous Policy Advisor with the Ministry of Energy, Northern Development, and Mines, and as an advisor to the Ontario Anti-Racism Directorate. In 2018, Larissa founded Larissa Crawford Speaks, extending her research, consulting, training, and speaking services to diverse clients working with renewable energy, youth upskilling, and policy.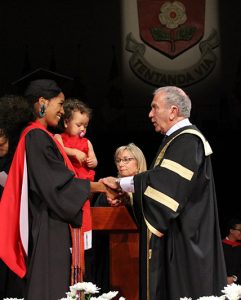 When alumna Larissa Crawford (BA '18) crossed the convocation stage to receive her degree for International Development Studies and Communication Studies, she proudly held her 2-year-old daughter Zyra on her hip. It was an unusual scenario that proved memorable for both her, her daughter, and those in attendance.
"The only reason I was allowed to cross the stage with my daughter was because of Ruth Koleszar-Green," said Crawford. "She is one of my most cherished mentors, and she really fought for me to bring Zyra."
It is an image that many have recalled and continued to talk about since. For years before and since graduating Summa Cum Laude, Crawford has made a major impact, not only on the York University community, but around the world. She has worked internationally as a policy consultant, trainer, and professional public speaker. With high-profile speaking engagements, like the more recent TedX Downsview in Toronto, Crawford brings her knowledge and message around the world.
"Don't underestimate the power of mentors, because my jobs, my awards – everything I have up to this point I can draw back to my York mentors. I feel such a personal investment in York because those mentors have come out of the York community."
With a focus in anti-racism and Indigenous knowledge, Crawford – of Métis and Jamaican ancestry – encountered racism while and since living in Calgary. When she moved to Toronto to study at York, she didn't originally identify as indigenous, and didn't disclose her identity.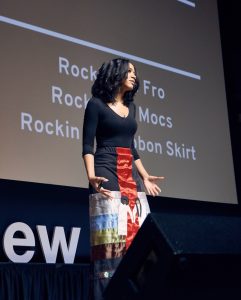 "It wasn't until my third year at York when I started actually studying indigenous topics, and when I was able to start focusing my research on indigenous issues, especially in international development studies. I had the opportunity to really explore indigenous ontologies and research, and that really started making me more inclined to invest my professional life and exploring these topics more, because it was always part of my cultural life whether people knew it or not."
Crawford credits the difference in her education, as well as the change in her career, to figures at the University, including Ruth Koleszar-Green, Lorne Foster, Ivonne Simpson, and Randy Pitawanakwat, with support for her that was "life-changing."
"Those four mentors really reflected both my black identity but also my indigenous identity, and being able to have the support they have had for me has been absolutely life-changing. And it's something I speak to quite often. Don't underestimate the power of mentors, because my jobs, my awards – everything I have up to this point I can draw back to my York mentors. And that's when I really saw my path starting to accelerate, and that's part of the reason why I'm so connected to York. I feel such a personal investment in York because those mentors have come out of the York community."
This is your Impact

Volunteer
Use your experience, build your network and keep connected to help York students and alumni.
Find Opportunities
Share your story
York alumni are making an impact. Inspire others by sharing your story.
Start Sharing