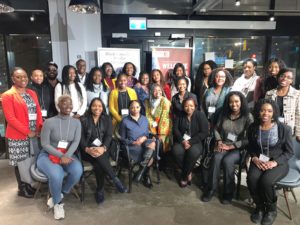 More than a decade after a Black Alumni Network was founded at York University, a group of current students, alumni, faculty and community members gathered to mark its relaunch as the York University Black Alumni Network (YUBAN). On February 13, YUBAN members and supporters celebrated the University network's long-awaited revival, poignantly held during Black History Month at Aroma Espresso Bar near campus.
"Today, we are relaunching as York University Black Alumni Network with a mission to connect York's Black alumni with present and future students while celebrating our accomplishments," said Tiffany Ford (BA '06), YUBAN Chair, and CEO & Strategist at Ford Global Group Inc. "Our goal is to create a strong and supportive network within York University's family."
The evening was an opportunity for attendees to network with members of the YUBAN executive team and alumni community, and to learn more about YUBAN's campaigns and initiatives. "We want to be the network in which York's Black student groups, Black alumni, faculty and community can share resources," said Ford.
Other speakers included Michael A. Eubanks (BA '93), Senior Vice President and Chief Information Officer, LCBO, and member of the York University Alumni Board, who kicked off the event with opening remarks. Dr. Andrea Davis, Associate Professor and Chair, Department of Humanities, shared insights from the Black Canadian Studies Certificate, of which she is also coordinator.
The York University Black Alumni Chapter (YUBAC) was founded in 2008 by former President Velma Morgan (BA '95, BED '97), along with executive members Konata Lake (BBA '03, MBA/LLB '08) and Michelle Hughes (BA '94). The newly relaunched YUBAN will continue to strengthen the connection between alumni and current students, provide mentorship and networking opportunities, and engage with the community through professional and University-related events.
To learn more about YUBAN, as well receive updates on upcoming events and networking opportunities, follow on Facebook, Instagram and Twitter, or email yorkublackalumninetwork@gmail.com.
This is your Impact

Volunteer
Use your experience, build your network and keep connected to help York students and alumni.
Find Opportunities
Share your story
York alumni are making an impact. Inspire others by sharing your story.
Start Sharing