Long before becoming a pilot, Iristel Inc. president and CEO Samer Bishay (BSc '98) was always gazing at the stars. Bishay, who was born in Cairo, spent his childhood in West Africa and Nigeria with his father, an agrologist, visiting different irrigation projects. "I used to see the crop dusters quite a bit and the helicopters that were flying above, so that's how I got really interested in just looking up. That's probably where I developed my celestial cravings," says Bishay, before adding with a laugh, "and it all went uphill from there."
The family moved to Toronto when Bishay was 12 years old, and lived in Scarborough, Ont. As his curiosity for all things space blossomed over the years, Bishay was drawn to the Space and Communications program at York, which was established by the Department of Physics and Astronomy and the Department of Computer Science, both being in the Faculty of Science at the time.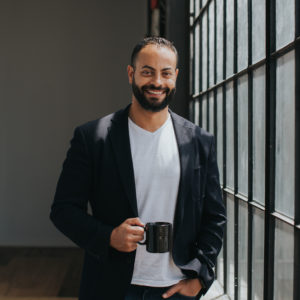 His childhood dream was quickly coming true: Bishay was accepted for an internship with the Canadian Space Agency during his third year, and moved to Montreal that summer. He was hired full-time as an engineer after graduating. "It was really cool because you would walk in the hallways and see the astronauts—Chris Hadfield, Julie Payette—walking by and saying hello," he recalls.
With the CSA headquarters located next door to the Saint-Hubert Airport in Quebec, Bishay's desire to take flight was piqued once again. "Every day I would drive by there and say, 'One day I'm going to do it!'" When the CSA announced they were offering a staff discount on its flight training program, he leapt at the chance to finally earn his pilot license.
In between flight lessons and his day job, Bishay came across a magazine article about voice over the internet and how it was going to revolutionize the world. This was the time when most people's access to the World Wide Web was through dial-up services. "A Zoom call back then that would have been pretty much impossible," he adds, a nod to how our current virtual world has excelled at the speed of light.
Bishay needed hardware to experiment with this new technology, so he applied to IBM for a 90-day trial for two servers on the advice of a friend who worked at the company. Each server cost around $50,000, so he quickly got to work at his apartment in Montreal, using his banked vacation days and overtime to get this project off the ground. He soon landed his first deal with a supplier in Africa. Eventually, the business took off, and he quit the CSA to focus on building up his company, internationally and at home in Canada. "It was a tough decision because I honestly didn't see myself leaving, it was a dream job," he says. "As a kid looking up at the skies, I said I want to be an astronaut. I thought that was my thing."
Getting comfortable with shifting gears in life is a lesson Bishay hopes to instill in future and current students. "One of the biggest challenges is that you don't necessarily know what you want to be or what you want to do," Bishay says. "At that age, I don't think I had a passion, everybody always says, 'Follow your passion.' But the problem is, at that age, there's no real passion yet, you're curious and that is what develops into something. So, if I was to sum it up, it would be to just follow your curiosity, which will lead to passion, which will get that fire to ignite something."
"If I was to sum it up, it would be to just follow your curiosity, which will lead to passion, which will get that fire to ignite something."
For his part, Bishay is grateful for the opportunities afforded to him over the years, and especially to his alma mater, which served as a launchpad for his career. Iristel Inc. recently made a gift of $470,000 to the Faculty of Science to enhance learning and research opportunities for students studying optical physics at York, by creating awards for graduate and undergraduate students and upgrading a hands-on teaching laboratory for optical physics.
Bishay was recently announced among the 75 finalists in the annual RBC Top 25 Canadian Immigrant Awards, an honour which he hopes will motivate future generations to pursue their own dreams. "I faced a lot of David and Goliath-type stories and I guess if we're to conclude with one thing it's to never give up," he says.
This is your Impact

Volunteer
Use your experience, build your network and keep connected to help York students and alumni.
Find Opportunities
Share your story
York alumni are making an impact. Inspire others by sharing your story.
Start Sharing