Racheal Awe (BA '03, MBA '17) has two young children and is chief of staff to the CEO at Canadian Tire Corporation, one of Canada's largest retailers. She's a high-achieving, high-performing leader, mother and mentor with a "failure is not an option" attitude.
Racheal was born in Canada, raised in Nigeria then returned to Canada to attend York University and study information technology. Driven to acquire a career related to her undergraduate degree, she began at Moneris Canada where she had worked part-time as a student. With time and experience, she acquired a Project Management Professional designation and went on to roles at Exxon Mobil and Canadian Tire with increasing responsibility, seniority, and professional development. As successful and in control as Racheal was, the arrival of her first child while at Canadian Tire was not something she was prepared for.
"Listen, nothing [laughs], nothing prepares you for that – I wasn't in control of anything," she says. "I thought I had a plan and as much as I like to plan, it didn't matter because it was what the baby needed. It was definitely very hard and that was one of the reasons I went back to work after 10 months because I needed it and I remember being so happy because during the day I'd work and when I went to pick my child up at daycare it was fantastic … she'd come running to me so excited to see me so it felt so good. I felt like oh this is perfect, this is where I'm at my equilibrium I'm satisfying myself, growing as an individual and satisfied and growing with my family."
Racheal viewed her return to work as an opportunity to try something new and took a new role at Sears Canada. Deeply committed to mentoring, she often shares her experience at Sears with her mentees. She was there during a very tumultuous time and credits that experience for teaching her how organizations work through adversity, realign and restructure themselves. From there she moved to a role with TD Financial Group.
"Then came my second maternity leave and I knew I had to figure out what I was going to do during this time, and that's when I decided to do York's Kellogg Schulich EMBA," says Awe. "It was one of the best experiences, it was phenomenal and I would do it again in a heartbeat. I was actually thinking about this a few days ago about how lucky I was at the time to not only be able to learn and get a degree but also meet all kinds of people, to travel the world and learn all these new things all while still being able to maintain a family at home with two kids. It was such a fantastic experience for me doing the MBA and I recommend it for anybody who is thinking about it. Do it."
Racheal credits her drive for excellence to her Nigerian heritage, and credits her project management skills and the support from both her husband and mother as contributing to her success as a mother, scholar and business leader.
"Every time I'm in executive and board meetings, I sit at the head of the table and I bring it every time. So even if they come and wonder why I'm at the head of the table, by the end of the meeting they'll know exactly why I'm there."
After acquiring her MBA and doing some consulting work, Racheal landed a role back at Canadian Tire as Associate VP for In-store Technology in 2018. Her team ran the technology in all of the stores and a year later, her role expanded to include the responsibility of digital strategy and vision.
"We were just starting our digital transformation when COVID-19 hit. We went from a company that had an average of 5,000 e-commerce orders a day to 115,000 orders a day. It was an incredible journey being able to respond to the demand, but we got through it."
Racheal led her team through the pandemic, which meant closing stores while ramping up high volume e-commerce capabilities. She was promoted to chief of staff to the CEO, and she was part of the team to lead company-wide conversations about anti-Black racism after the tragic death of George Floyd. 
"I remember when it happened, you know, there were so many other things that happened before then and you typically share that with your friends and family at home and we talk about it as a Black community and we say how we feel but when you get to work it's something you kind of shut off, you don't really discuss … our CEO came out, right after it happened, at a town hall and really talked about it openly."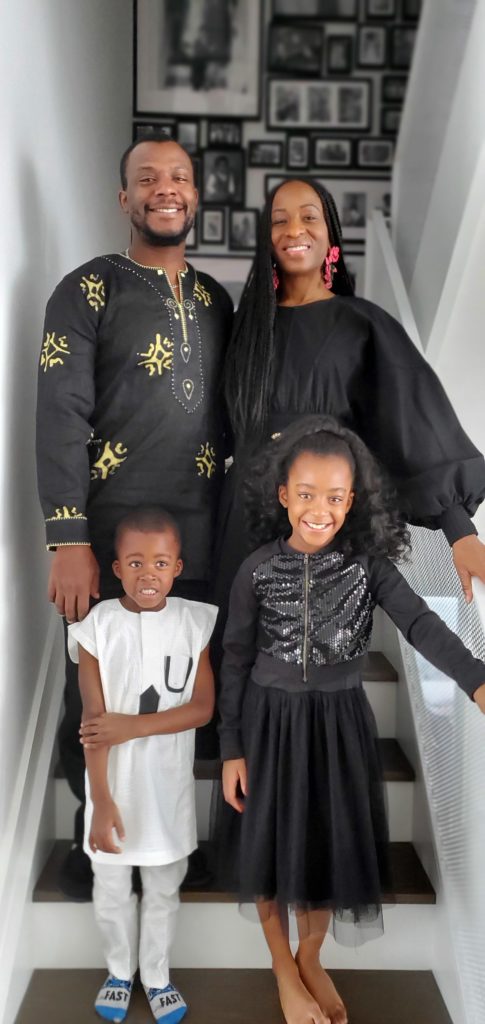 Racheal started having conversations with Black colleagues on her own which evolved into something called courageous conversations facilitated by an external company lead by Canadian Tire's diversity and inclusion initiative. Those conversations resulted in Racheal presenting to the executive team, as one of the few and most senior Black people in the company.
"My message to them was – first, representation. We need to have more Black people in senior roles – people love this company but they don't know if they can climb the ranks or if it's accepting to have Black people in those roles because they don't see anyone who looks like them. They see me and that's it and so for them it seems like such a far away thing. Then, education. This is what I'm most passionate about – racism is not inherited. It's taught from generation to generation. We need to make sure our generation is educated so we're not passing this down to our kids."
In her current role as chief of staff to the CEO, Racheal is leading the president's office, working with the board, creating a new strategy for Canadian Tire and rolling it out company-wide. It's a high-profile role and she's never questioned her right to be there.
"Every time I'm in executive and board meetings, I sit at the head of the table and I bring it every time. So even if they come and wonder why I'm at the head of the table, by the end of the meeting they'll know exactly why I'm there."
Despite knowing it's hard when one has been conditioned to think otherwise, this is the advice she shares with her mentees and at the courageous conversations she continues to facilitate. Racheal does a lot of mentoring as she feels she gains as much as the mentees do and is deeply inspired by the next generation.
"When I talk to them and give them advice for the things they struggle with it actually really helps me figure out how to lead my team and how to mentor my team moving forward. I encourage anyone to mentor somebody because you'll get as much out of it as your mentee does."
---