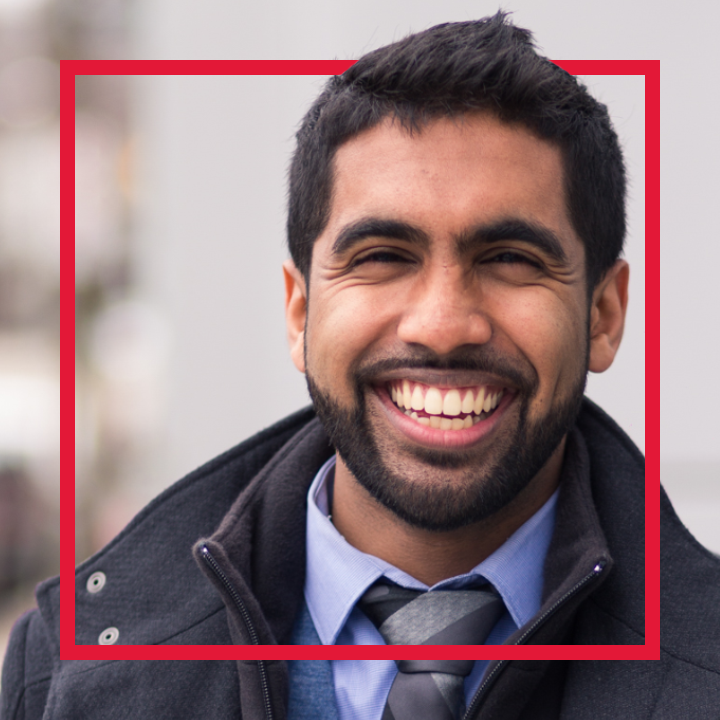 York kinesiology graduate, Prakash Amarasooriya (BSC '15), is the manager of scorecard operations at TD Bank, co-host of the Real Talk Roundtable podcast, a published neuroscience researcher, and a financial literacy advocate.
His commitment to championing financial literacy for youth stems from personal experience. In 2008, both of his parents lost their jobs in the economic crash. At only 16 years old, Prakash took on five part-time jobs in addition to his homework and extra-curricular commitments to help alleviate the financial pressure on his parents. But it wasn't until several years later when he was offered an interview to be a bank teller that Prakash realized how much he didn't know about finances, even the differences between a savings and a chequing account. This realization was accompanied by another: if he didn't know the basics of money management and his parents weren't able to teach him, others from underprivileged neighbourhoods like his likely faced similar knowledge gaps.
"Working all of these jobs, but not knowing anything about how to manage money, I recognized that you can't be successful in life without these basic skills" says Prakash. "And I knew, as a child of a newcomer family, that I relied on school to teach me what my parents could not."
In 2016, Prakash created a proposal to have financial literacy incorporated into the Ontario grade 10 career studies curriculum, as well as a petition to gather support from the public. After eight months of trying, he emerged from a final meeting with the provincial government, where he'd essentially been told, "thank you – but no thank you." Instead of conceding defeat, he asked himself, "if this were a movie, what would the main character do?" With this lens, he decided to take a chance by pitching the financial literacy campaign he initiated with the Toronto Youth Cabinet to the media, explaining what students needed from the curriculum to be successful in life beyond the classroom.
Fortunately, the media picked up the story. This led to the provincial government inviting Prakash back to the table – the result of which was the integration of financial literacy in Ontario's grade 10 curriculum in 2019. His perseverance paid off; now every high school graduate in Ontario will learn the basics of budgeting and responsible money management.
This type of community engagement and advocacy isn't new for Prakash. As a kinesiology student in York's Faculty of Health he set out to not only immerse himself in his studies, but in all the opportunities that the York community had to offer from student clubs, to volunteer roles including president of the campus chapter of Doctors Without Borders, and student government.
"I chose York U above other universities because York had the vibe that I felt would allow me to prosper," says Prakash.
Prakash continues to promote financial literacy across Canada as a member of the board of directors and the chair of the programs committee for the Canadian Foundation for Economic Education (CFEE). He has also expanded his activities to support the arts and entertainment industry in Canada, currently serving on the board of directors for Crow's Theatre and volunteering with the Toronto Symphony Orchestra. His passion for volunteerism has been recognized as the recipient of both the Volunteer Toronto Award and the Canada Volunteer Award.
And he has done all of this while contributing financially to his family.
"The advice I'd give to students is that there is no defined path to your life. Don't give in to the pressure you may feel from what you see in the world – and be mindful of your own expectations of yourself." Prakash acknowledges the pressure that people are constantly under to be successful, including himself, and to have it all figured out as soon as possible. The advice he gives is to "remind everyone that we're all on our own respective paths, and life is never what anyone expected it to be. I couldn't have predicted how my life was going to transpire, and I have no idea how it's going to turn out. Just do whatever you do with purpose."