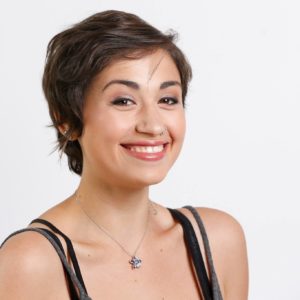 When Madeleine Patton (BFA '16) was 14 years old, she wrote a story about a young, limping lioness in the wild who was also coming to terms with her bisexual identity. But she didn't realize it at the time.
An avid writer and animator, when Patton was 12 she started her own original animated series on YouTube that followed a cow who wants to join a wolf pack. As a huge Star Trek fan (famously known as "Trekkies") she idolized writers and strived to be one herself.
In 2010, Patton studied screenwriting at York's School of Arts, Media, Performance and Design (AMPD). Years after her studies at York, she was unhappy in her job and decided to revisit the story she wrote as a young girl and transform it into something bigger.
She discovered that the Independent Production Fund (IPF) was taking applications for funding. After transforming her book into an animated trailer, Patton was delighted to discover she had received funding from both IPF and Interactive Digital Media Fund, and that's how her LGBTQ+ web series My Pride was born.
With over 310k subscribers and 20 million views, My Pride is a passion project of Patton's that is very close to her heart. As writer, director, and occasional animator, she has spent the last year engulfed in the series that has left an impression on an invested audience.
"When I was in high school, I think it was harder to 'come out' than it is now," says Patton. "So I tried my best to portray the LGBTQ+ romance well as the central relationship, and also get a little bit into things like historical erasure of LGBTQ+ folks to hopefully support anyone watching in a similar headspace to me when I was 14. If it helps anybody find comfort and self-acceptance, that makes me really happy."
"What I wrote when I was 14 was very unfiltered," says Patton. "These were my feelings and what was interesting then. But when I reread the book I realized that though it didn't have this LGBTQ+ relationship in it, it was clear that the main character felt romantic love with her best friend. I felt it was recognition of my younger self who had these feelings, but didn't know how to express it."
While working with a team of animators, voice actors and composers, Patton has spent the last year working 12-hour days, and eight months longer than her team expected. Jumping in to animate for the series when necessary, Patton maintains that writing is and will always be her favourite piece. Since receiving global recognition online, her work has been picked up by international distributors and has been translated into over 16 languages.
The series is part of Patton's expression she felt she owed to herself. "When I was in high school, I think it was harder to 'come out' than it is now," says Patton. "So I tried my best to portray the LGBTQ+ romance well as the central relationship, and also get a little bit into things like historical erasure of LGBTQ+ folks to hopefully support anyone watching in a similar headspace to me when I was 14. If it helps anybody find comfort and self-acceptance, that makes me really happy."