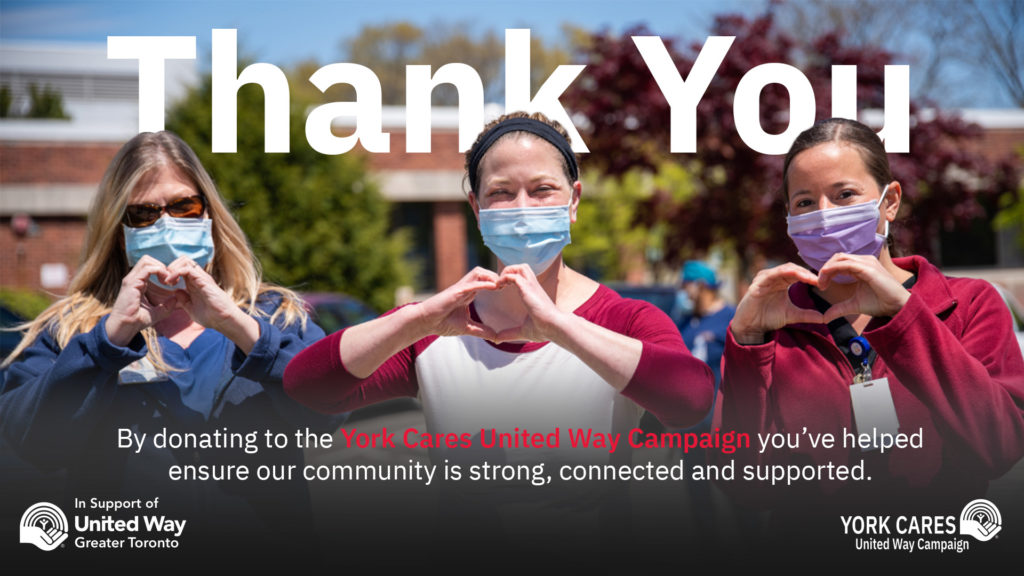 The 2022 York Cares United Way Campaign comes to an end.
Each year, the York University community engages in the York Cares United Way Campaign to raise funds to help vulnerable members of the community facing crisis.
The 2022 campaign, which ran from Nov. 1 to Dec. 9, was a success bringing in $132,305.
Staff, faculty and instructors came together to support the campaign and York's commitment to creating positive change for its students and local communities.
The success of this campaign is a key example of what York stands for to right the future. York members responded with overwhelming support and participated in GetUP – United Way's virtual physical challenge, joined the Finding Home workshop, and used their personalized links to the pledge form to donate.
Dedicated staff worked together to plan and make this campaign possible. The 2022 York Cares United Way Campaign Committee, Division of Advancement's Barbara Antenos and Nadia Dar engaged many volunteers across the University and were assisted by the following staff: Susana Gajic-Bruyea, Louise Spencer, Karen Furlong, Tien Do-Ky, Ashley Goodfellow Craig, Vanessa Thompson, Mario So Gao, James Hsieh, Kaizad Kabraji, Mohini Jaggan, Marion Frankian, Isabelle Montagnier, Johanne Roberge, Vina Sandher, Lyna Truong, Scott Labron, Amal Awini, Gillian Cameron, and 50 executive assistants across the University who engaged their teams.
Antenos and Dar say the success of the campaign speaks to the York's commitment to support local communities.
Funds raised during the campaign were directed to United Way Greater Toronto in support of social services and organizations in Peel, Toronto, and York Region, some of which directly impact York community members.
Donations will help:
meet the basic needs of everyone in the local community, through mental health supports, food security initiatives, employment programs and housing assistance;
ensure the creation of economic opportunities in neighbourhoods hit hard by the pandemic and will help advocate for emergency paid leave and affordable housing; and
invest in the infrastructure of agencies serving the communities most impacted by bias and discrimination, specifically Indigenous- and Black-led organizations to change the systems that divide the community.
The United Way Greater Toronto partners with 300 local agencies focused on helping vulnerable members of our community facing crisis with homelessness, housing, early learning, food security, inclusive employment, social isolation, settlement, legal and mental health services.
York University has partnerships with many United Way-funded agencies, where some of York's students have completed internships, placements and have accepted employment. These agencies include:
Access Alliance
Abrigo Centre
Child Development Institute
Community Living York South
COSTI
Delta Family Resource Centre
Fred Victor
Hospice Toronto
Jane/Finch Community and Family Centre
Malvern Family Life Resource Centre
Newcomer Centre of Peel
Rexdale Women's Centre
Tropicana Community Services
YWCA Toronto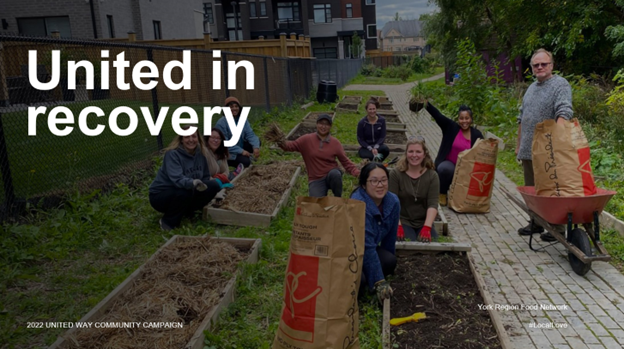 The pandemic made the issues at the root of poverty in the GTA unignorable—and hasn't affected everyone equally. COVID-19 is exacerbating the inequities that divide our community, pushing people further into precarity:
Food security has been exacerbated
Layoffs have skyrocketed for low-wage workers
The housing crisis has worsened
Say 'yes' to an equitable recovery
When this crisis is behind us, we will face an extraordinary challenge. How do we build back better in the face of increased inequality and deepening poverty across the GTA? We need you now, more than ever, to help us redefine the boundaries of our recovery and build a more inclusive 'new normal.' With your support, we can meet everyone's fundamental needs, build a fairer and equitable future, and dismantle discrimination in our communities to address the root causes of poverty.
For more information on the United Way Greater Toronto visit: https://www.unitedwaygt.org/home.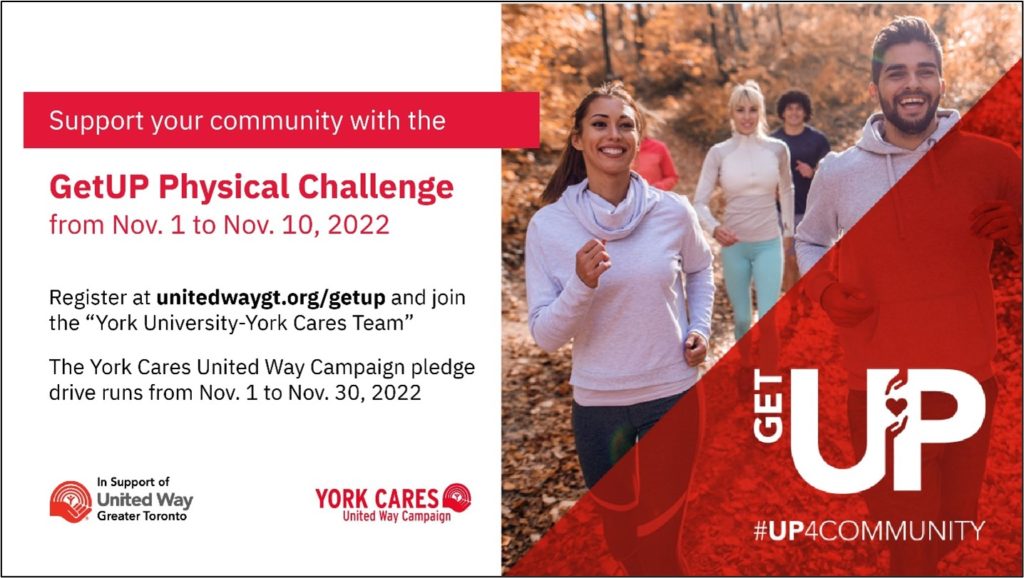 United Way Greater Toronto's virtual physical challenge returns this Fall!
Date: Nov. 1 to Nov. 10
Location: Your home, workplace, local park or gym – wherever you like to get active
HOW DOES IT WORK?
Register to participate and start fundraising. Each dollar raised goes towards helping people and families facing crisis with housing and homelessness, early learning, food security, inclusive employment, social isolation, settlement, legal and mental health services.
Join the "York University-York Cares" team or register your own team, just be sure to indicate that York University is your school or workplace and include York University in the team name. Ask your family, friends, neighbours and colleagues to show their local love by joining you for GetUP 2022. Share your progress and pictures using the hashtag #yucares and #UP4Community.
Going solo? That works too! Ask your community to show their local love by contributing to your fundraising campaign.
Register now or visit www.unitedwaygt.org/getup for more information. Questions and inquiries can be directed to yucares@yorku.ca.
This is what your local love looks like
Wonder what your donation to United Way looks like? These are the stories of people who faced barriers and overcame them, thanks to donors like you.
Chad & Travis
Travis partnered with United Way to distribute food to his neighbours during the pandemic, including Chad. Now, he and Chad both give back by making regular food deliveries.
Premji & Shanta
Premji and Sumant share how United Way provides vital programs for seniors—like the ones that helped Premji and his wife Shanta—and helps people envision bright futures for themselves.
Paul
Food insecurity is an issue here at home. There are a shocking number of people who have to make the tough choice between paying rent or putting food on the table. Hear from Paul Taylor—Excutive Director of FoodShare and someone who faced food insecurity as a child about how United Way and our network of agencies are tackling the issue head-on.
For more videos and stories please visit: https://www.unitedwaygt.org/resources/fundraising-resources/videos-stories/