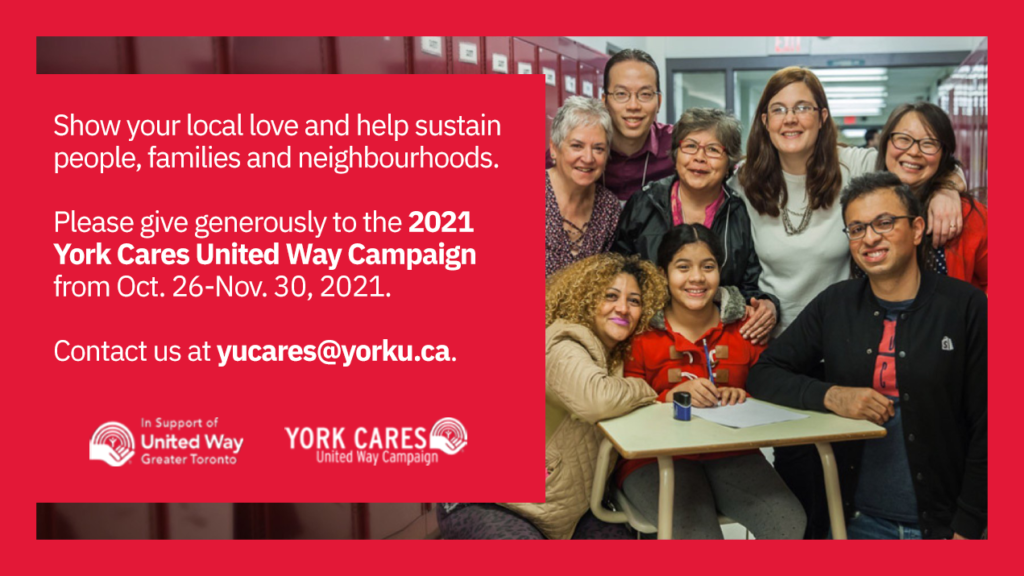 York Cares United Way Campaign kicks off Oct. 26
It's that time of year again when the York University community comes together to support the United Way Greater Toronto, an organization that partners with 280 local agencies working to help vulnerable members of the community facing crisis with shelter, housing, literacy, food, social isolation, legal and health services.
York University has partnerships with many United Way-funded agencies, where some of York's students have completed internships, placements and been hired to work. These agencies include:
Abrigo Centre (Connecting People to Possibilities)
Child Development Institute
CNIB Foundation
COSTI Immigrant Services
Delta Family Resource Centre
Fred Victor (Ending Homelessness in Toronto)
Hospice Toronto
Jane/Finch Community and Family Centre
MIAG Centre for Diverse Women & Families
Newcomer Centre of Peel
OCASI (Ontario Council of Agencies Serving Immigrants)
Rexdale Women's Centre
UNISON Benevolent Fund
Wellfort Community Health Services
This is a challenging time and many people in the community are struggling. The GTA is the poverty capital of Canada and many families and individuals have been pushed further into crisis by the pandemic. The social services sector is stretching beyond its limits to serve the community, but help is needed to keep individuals and neighbourhoods connected and supported – now and through the years to come.
York University is committed to creating positive change for its students, communities and the world, and this campaign highlights what York stands for. This year's campaign runs from Oct. 26 to Nov. 30 with a goal to raise $150,000. Each York University staff and faculty member will receive an email with their own personalized electronic pledge form on Oct. 26. Email reminders will continue to be sent to staff and faculty over the course of the pledge drive.
Questions and inquiries can be directed to yucares@yorku.ca.
Why we need you
The pandemic made the issues at the root of poverty in the GTA unignorable—and hasn't affected everyone equally. COVID-19 is exacerbating the inequities that divide our community, pushing people further into precarity:
Food security has been exacerbated
Layoffs have skyrocketed for low-wage workers
The housing crisis has gotten worse
Mental health is worsening
Say 'yes' to an equitable recovery
When this crisis is behind us, we will face an extraordinary challenge. How do we build back better in the face of increased inequality and deepening poverty across the GTA? Join our 2021 Community Recovery Campaign today to help us:
Meet fundamental needs
Tackle local poverty by dismantling the discrimination and inequity at its root
Build an equitable recovery
For more information on the United Way Greater Toronto visit: https://www.unitedwaygt.org/home.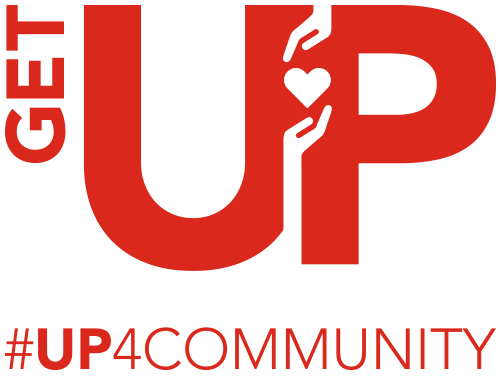 GetUP – United Way Greater Toronto's virtual physical challenge
Date: Nov. 1 to 14, 2021

Location: Your home, backyard, local park or neighbourhood—wherever you like to get active!
HOW DOES IT WORK?

Register to participate and start fundraising. Each dollar raised goes towards helping people and families experiencing issues like poverty, hunger and homelessness.
Join the "York University-York Cares" team or register your own team. Ask your family, friends, neighbours and colleagues to show their local love by joining you for GetUP 2021.
Going solo? That works too! Ask your community to show their local love by contributing to your fundraising campaign.
Make GetUP your own. How you get your 280 minutes in is up to you! You can do it all at once, commit to 40 minutes a day for seven days or spread the challenge out over two weeks by doing 20 minutes a day. You can even share your minutes with a friend or colleague by asking them to register too!
Share your progress. As you work toward your 280-minute goal, be sure to join other participants in sharing your progress on social media using #UP4Community.
Register now or visit www.unitedwaygt.org/getup for more information. Questions and inquiries can be directed to yucares@yorku.ca.
This is what your local love looks like
Wonder what your donation to United Way looks like? These are the stories of people who faced barriers and overcame them, thanks to donors like you.
Sylvanna & Marge
A United Way-funded youth program helped Sylvanna come out of her shell and provided her with the tools she needed to successfully apply to university.
Chad & Travis
Travis partnered with United Way to distribute food during the pandemic. Chad got support through the food program and now gives back by helping Travis out with his deliveries.
Cindy & Lucie
A United Way-supported program helped Cindy gain more confidence and stay connected—something that's only become more important during the pandemic.
Colette & Rudy
Colette led an active life until the pandemic hit and left her feeling isolated in her seniors' residence. A United Way-funded agency helped her get back into circulation.
Laura
United Way's mental health resources helped Laura see how powerful it could be to navigate the challenges she faced—and find a new outlook on life.
Mariya & Yannick
After immigrating to Canada, Mariya found connection and community by volunteering with a United Way program.
Michele & Bridget
After receiving support at a United Way-supported food bank, Michele started giving back by volunteering. Now she wants everyone to show their local love by getting involved too.
Premji, Shanta & Suman
Premji turned to a United Way agency when his wife Shanta was diagnosed with Alzheimer's. The agency helped both him and Shanta find support and community.