Beyond the Classroom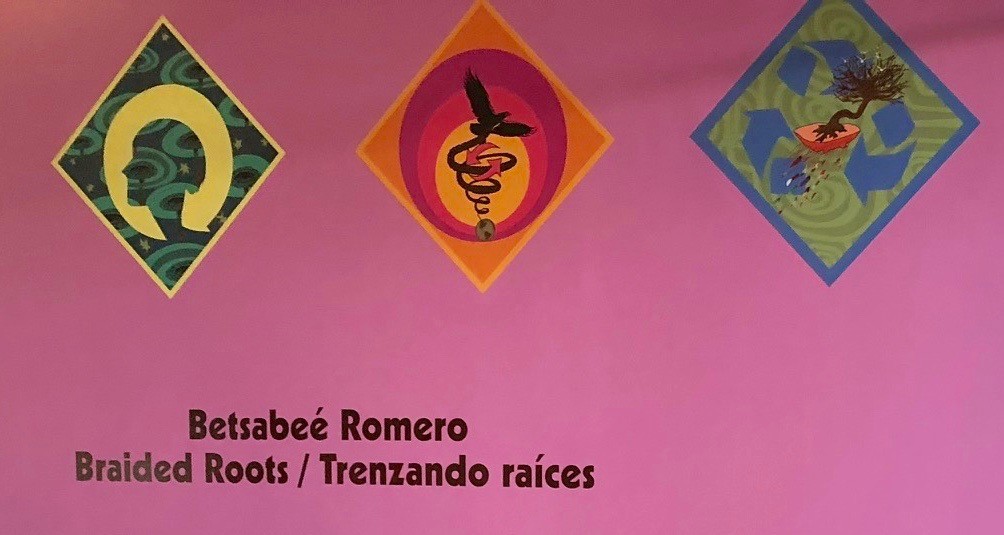 In the Fall semester 2018, students from different levels in the Spanish Program visited the Art Galley of York University and experienced first-hand the art exhibit "Braided Roots / Trenzando Raices" by Mexican artist Betsabeé Romero. Felicia Adessi, a first-year student minoring in Spanish, wrote the following article for the Phoenix, the newspaper published by Founders College.
"A Journey Through Culture, Human Connection and Unity"
I became interested in studying Spanish language and culture after traveling to countries like Dominican Republic, Mexico and Cuba. During my first semester at York, I had the opportunity to learn about Latin American art by visiting with my Spanish 1000 class the exhibit "Braided Roots / Trenzando raíces" by Mexican artist Betsabeé Romero at the Art Gallery of York University. Romero's work allowed me to have a greater respect and appreciation for Indigenous cultures here in Canada. In addition, one concept that resonated with me was the use of circles throughout the exhibit to represent unity.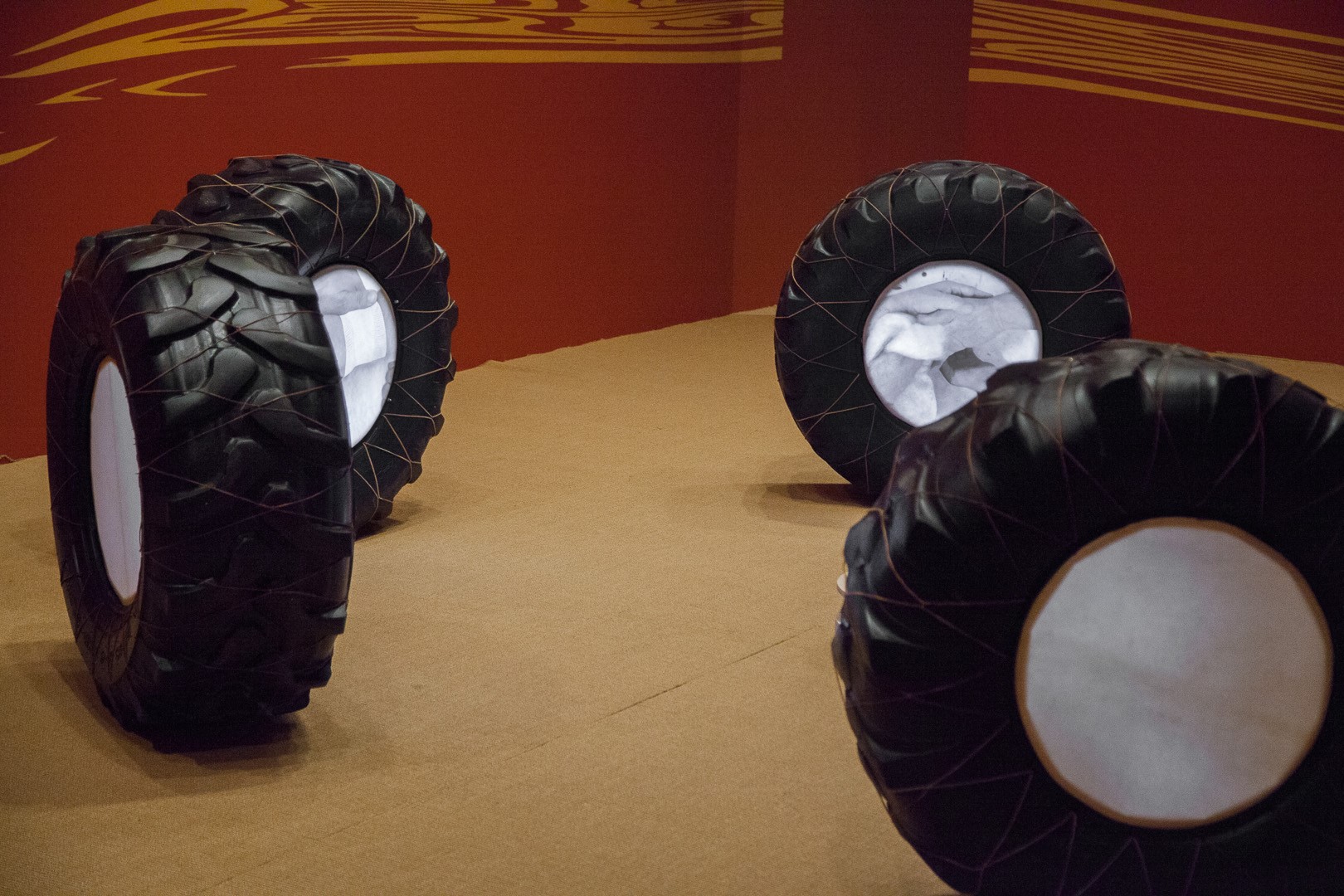 In her work, Betsabeé Romero uses everyday objects, such as cars, road signs and tires, as well as trees, feathers and musical instruments. The first installation, for example, was titled Wind and Lightning [Aves de viento y relámpagos] and displayed ten beautiful hand-carved flutes, which had been created by undergraduate students enrolled in sculptural practices studio. At the top of the flutes were carvings of various shapes of bird heads. Each flute had motion sensors and when students waved their hands or walked near the flutes, different colours of light would display. I recall approaching the flutes and feeling a sense of astonishment about the passion, commitment and possibilities of human achievement.
The brochure for the exhibit stated that Indigenous cultures in Mesoamerica used flutes as luring devices. This means that flutes were used by people to attract birds in order to obtain their feathers. Betsabeé Romero created a new type of flute to attract instead human attention and to allow viewers to interact with her art installations. When observing my classmates, I recognized that their attention was solely on the flutes, which brought about laughter and enjoyment, as well as conversation. Romero had the ability to 'seduce' her audience, allowing us to enjoy the exhibit while simultaneously promoting communication with one another, using our voices, emotions and eye contact in conjunction with old and new forms of technology.
The last room of the art gallery displayed an installation titled Awakening of the Birds [Despertar de las Aves], which consists of a round display of bright colourful feathers suspended in the air. The circular display created a circular shadow on the ground below near where my classmates and I were standing. Hence, all of us could engage very easily with this art installation. Suzanne Carte, one of the curators at the gallery, pointed out that "when standing in a circle, we can recognize the other members of our community". I was fascinated with this concept because I think that often times, instead of having face to face interactions with other individuals of our community, we have different forms of social media distracting us from engaging in one to one conversation.
"Braided Roots / Trenzando raíces" was curated by Emelie Chhangur and Cathie Jamieson and was influenced by the "experiences, encounters, and exchanges" Betsabeé Romero had during her art residency in Toronto in 2017 and her visit to the Mississaugas of the New Credit First Nation. While admiring and studying Romero' work, I noticed a correlation with my own experiences as a learner. Traveling abroad stimulated my desire to pursue higher education, as well as my quest to grapple and understand my drive for something foreign. I highly recommend anyone to visit the Art Gallery of York University and to approach the experience with an open mind and heart to appreciate what we can achieve with desire and passion.
By Felicia Addesi
Images thanks to the Art Gallery of York University