Dana Patrascu-Kingsley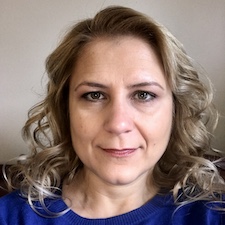 Office Location: 630 Atkinson Building
Phone Extension: x30864
danapk@yorku.ca
Dana Patrascu-Kingsley was born and grew up in Bucharest, Romania. After graduating with a B.A. in Romanian and English from Facultatea de Litere, University of Bucharest, she moved to Canada, where she completed an M.A. in English at Carleton University, Ottawa, and a Ph.D. in English at York University, Toronto.
Dana has taught courses in Canadian literature, graphic narratives, life writing, the short story, children's studies, and women's writing. In all her courses, she includes texts that illustrate diverse experiences, voices, and writing styles.
Dana's research focuses on immigration, ethnicity, race, and gender in Canadian culture. Her peer-reviewed publications include articles on the representation of Central and Eastern European 'Others' in Gabrielle Roy's The Tin Flute, transcultural exchanges in Marusya Bociurkiw's The Children of Mary, transforming ethnicities in Canada (chapter included in Embracing Otherness: Canadian Minority Discourses in a Cross-/Transcultural Perspective. Eds. Eugenia Sojka and Tomasz Sikora), and, more recently, Julie Doucet's autobiographical comics (forthcoming).