Alokananda Dasgupta (BFA '09) is a leading global contemporary music composer located in Mumbai. She most recently composed the background score for Netflix's Sacred Games, to international acclaim. We caught up with her in Toronto to talk about her experience at York and her career to date.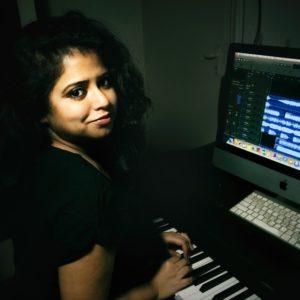 Q: Why did you choose to study Music at York?
A: I did an extensive search and looked at the Glenn Gould School and the University of Toronto. I loved that York offered ensembles like new music ensemble and modern music ensemble, so I felt I could fit in.
Q: What was your experience at York like?
A: While learning the piano in Calcutta, India, I found that it was all about exams and the stress was being on a good classical performer. York taught me I can still be a musician and not be great at the piano.
I took composition classes, I took modern ensemble and the courses I feared, I took. I lived in residence on campus at York so it gave a more homely feeling. Staying away from home was tough but I finally got to focus on what I wanted to do, and I feel that every time I come back. I love the personal dynamic I have with Toronto and York. I never thought I'd have the connection I did with my professors. In recent years they came to my film screening at TIFF.
Q: Can you share more about your career path since university?
A: It's been a personal as well as professional journey. I returned to India upon graduation and began assisting someone who created films I was interested in that weren't Bollywood. I chose the projects that were up my alley from the very beginning.
I always wanted to globally compose so I went to LA and then came to Toronto. There's something about being alone in a city and romanticizing about the kind of music you want to create.
The last two or three years have been the most rewarding. I still have self doubt, but the validation feels good –eight to nine years of working hard meant something.
Q: Can you tell us more about your work on Netflix's first original Indian series, Sacred Games?
A: When Sacred Games was offered to me, I didn't know the scale of what it would become. It was introduced in India to a lot of doubt - people still wanted to go to theatres and watch song and dance or reality TV shows.
I watched the episodes before composing the music as you have to create the zone first. I found it challenging to establish the sound. I had to make it abstract yet concrete, minimalist yet exciting. I composed the opening credits and then it became clearer to me what I wanted – mystic sounds but nothing associated with country or religion.
Sacred Games has flourished like wildfire. People love the darkness and the fact it's not sugar coated. It has been an educational joy seeing something like this happen.
Q: What would you say to composition students looking for a similar career?
A: Don't get too worked up about the process of acquiring a job. It all starts with your self satisfaction and maintaining your originality. This is a business and there will be people telling you what they expect from you musically, but it has to be something you want to compose. Adhere to their instructions, but squeeze you own personality in however you can. Tell yourself that your primary joy should be from whatever you're creating. Just compose and create your own sound.