Named by the Women Executive Network (WXN) as one of Canada's Top 100 Most Powerful Women, Stachen Frederick (BSW '13) has over 20 years of experience in the field of community and program development both nationally and internationally. She is the founder of BrAIDS for AIDS, a not-for-profit organization that raises awareness of HIV/AIDS in the African, Caribbean and Black communities in Canada and around the world. Additionally, she is the executive director of Weston Frontlines Centre, a youth charity in Toronto.
How did it feel to be named one of WXN's most powerful women in Canada?
I have had several awards and academic achievements over my career and when I get these awards, it is more about what it means for the communities that I serve. I am very humbled in terms of receiving the award and bringing a spotlight to the causes that I am extremely passionate about – looking at issues that affect the Black community, particularly issues around health and HIV/AIDS and some of the issues that Black youth face. A philosophy of life that reflects my true self is Ubuntu, "I am because they are" but also "they are because I am," and so for me it is about my success which leads to the success of my staff and the communities which I serve.
What inspired you to start BrAIDS for AIDS?
I was working at an organization right after university in Ottawa. Within the organization I experienced racism, sexism, and ageism. It was a whole intersection of oppression and I saw injustices in my community. Money was provided to this white-led organization to run a program within the African, Caribbean, and Black communities around HIV/AIDS prevention and they really did not take the voices of the community into consideration. The money was not getting to the exact needs of the community. I knew that I had to find a way to raise funds and awareness for my community. One day I was about to get my hair braided and I saw the word AIDS pop out of the word braids. That was my eureka moment and that is how the organization was founded. The organization promotes HIV/AIDS awareness and access to resources for Black communities through culturally appropriate practices such as hair braiding. Getting your hair braided is lots of fun and it helps to break down some of the stigma for people to come out, have their hair done and be able to talk about HIV/AIDS or sex. The organization helps to address injustices in my community both nationally and internationally.
Why did you to choose to study at York?
I was at a crossroads while living in Ottawa. I had a degree from the University of Ottawa and had started BrAIDS for AIDS, I was looking for a school that could build on my first degree, which is in psychology. York's Social Work program resonated with me because it focused on the dismantling of the structures that put people at risk and that discriminate. I liked the anti-oppressive framework it offered. I tell people that everything that I do is in alignment with who I am. The school that I chose and the work that I do daily is in alignment with who I am. And that is that I fight for justice. York's School of Social Work really resonated with me because it holds that same value.
What has your career path been since York?
I was already in the field doing the work, but York provided me with more tools and a deeper understanding of structural racism and the different types of structural "isms" within society. I was able to have a greater understanding of the deep-rooted historical systems that were set up to keep people marginalized. I can hold my own and understand systems better which allowed me to move into more senior roles. Initially I was a case manager at the YMCA, then moved into a team lead role followed by becoming a director. Shortly after that I became the executive director of Weston Frontlines Centre. Every day is living the understanding of social injustices and making sure that I respond to the needs of the community.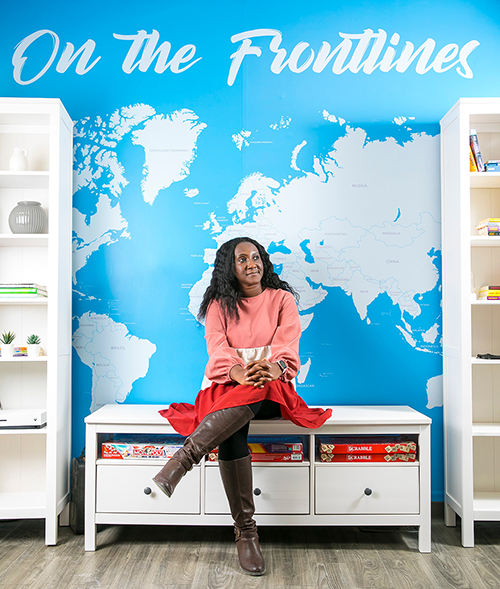 Can you tell us a bit about the Weston Frontlines Centre and the work that you do?
Frontlines is a youth charity in York-South Weston, one of the poorest ridings in Toronto, providing a variety of programs and services including homework programs, summer camps, cooking programs, youth violence prevention programs, a catering business, cookbook and much more with a mission of addressing the youth's pressing needs. When I took over the organization in 2016, it was in crisis. There were not a lot of funds, but part of the role was to ensure that it became financially strong. We started as an organization of three staff and we are now over 16. We originally served about 100 kids and now we serve just over 400 kids. My role focuses on fundraising but beyond that it is about things like partnerships, advocacy, and human resources. I wore many hats in the beginning, but now I have a team around me, and I think that it is important to grow the people within the organization. For us to be able to deliver such excellent and exceptional programming to the community, my staff need to feel empowered and they need to be happy. There needs to be a culture of fun and family, but also hard work and it starts at the head of the organization.
What advice would you give to those who want to change the world for the better?
I have a philosophy: "In the absence of something, you must do something." Look at the needs of your community. Are there gaps in your community? What do you feel passionate about? We all have values that are inherent in us. Find out what you are passionate about and live relentlessly.
---