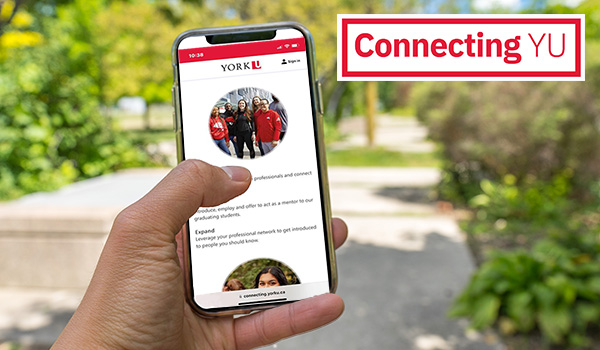 York University is thrilled to announce the launch of Connecting YU, an exclusive online networking and mentoring platform.  Students and alumni of York can leverage the virtual network to establish meaningful connections, find valuable mentoring opportunities and cultivate professional and personal relationships that will enhance their learning and development.
"Our community now has access to a diverse and equitable space that extends beyond physical boundaries," says Julie Lafford, Assistant Vice President, Alumni Engagement. "The goal is to continue to engage and support our students and alumni in expanding their knowledge, opportunities and connections." 
Utilizing cutting-edge artificial intelligence algorithms, mentors and mentees are matched according to individual needs, academic or professional interests, identity or activity, creating a safe environment for our members to interact. The mobile-friendly platform facilitates the delivery of mentorship easily and efficiently, making it accessible to all users.
"It was easy to create an account on Connecting YU. We loved the platform and were really shocked and excited to see the available options on it," says Puneet Gandotra (BCom '21), member of the Accounting Alumni Network, which has been a test group on the platform.  "It was beyond what we imagined it to be, like pulling in the experience timeline and mentorship portal. We will be using it as the platform for our network.".
To join the platform please visit connecting.yorku.ca. If you require more information or to provide any feedback, please contact Kiera Dinsmore by email at kieradin@yorku.ca.