York University has a wide array of resources at its students' disposal, be it mental health support, academics, recreation, or professional development opportunities. One such resource is the Advancing YU program, which is an alumni-based mentorship program that provides black and women students in the Faculty of Liberal Arts and Professional Studies the opportunity to be paired with successful York alumnus to learn about their careers and receive mentorship from them. 
Two such students, India Madsen and Yasmin Anigozie have shared their experiences with the program, and how it helped them develop in a multidimensional way.
India Madsen
My name is India. I'm a 3rd year professional writing student. I was mentored by Sharon Zohar, who founded The Big Push, an organization that helps female tech entrepreneurs grow their businesses. Sharon has taught me so much over the past year.
When I began Advancing YU, I had some dreams, but I wasn't ready to share them with those around me. When people would ask me what I wanted to do after university, I would say, "I don't know." It's true that I didn't have the same degree of clarity as I do now, but mostly I kept my goals secret because I was afraid of being judged or failing.
However, Sharon helped me to understand that when you don't share with people, you deny yourself the opportunity to build a community that will support you on your path towards those goals.
I couldn't ask for a better community than everyone here in Advancing YU. Some of the conversations we've had have completely changed my outlook on what it means to be a leader. Thank you especially to Nasra, Marisa, Xamida, and Amelia for all your hard work to make this program happen.
It was an amazing experience!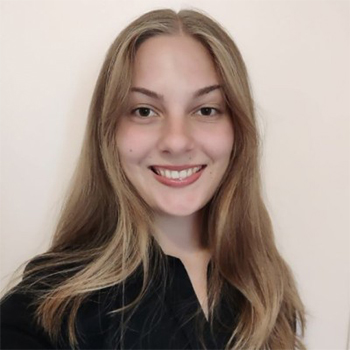 Yasmin Anigozie
I chose this program because of the opportunity to gain educational and emotional guidance on my journey toward entering the workforce. Before entering this program, I was desperate for some sort of guidance before I graduated, as I was lost with so many career and life options in mind.
This program seemed perfectly designed to help me in all aspects of my life that had me worried prior. The monthly meetings with my mentor helped to declutter my mind, making me organize my thoughts and prospects for the future. The opportunity to connect with someone who is thriving in their chosen career is a real morality booster. I also enjoyed the many workshops that were perfectly curated to all the issues I faced as a young black woman emerging into the workforce. I am no longer an imposter trying to make my way through life, I am a proud leader in every aspect.
The leadership workshops struck me close to home as it always has been my biggest fear that I did not have the qualities of a leader. I was raised by my grandmother, and always felt I was at a disadvantage by not having parents. This program has shown me despite my past, I am not any less than anyone in the room. The leadership workshop showed me that I had developed many qualities as a leader, that I show in my everyday life. I wish when we did the activity, that I had put my name down on the leader sheet.
With each meeting, I have grown as an individual and feel prepared to face the outside world after graduation. I have been truly blessed to meet such kind and considerate people through this program and I hope to stay in touch with everyone from here on out. Thank you so much everyone for being such wonderful and courageous people, putting yourself out there, and trying to better yourself through this program. Your efforts will not be in vain.