Cynthia Loyst (BFA '98) is a sex educator and media personality. She is a co-host on CTV's The Social and the creator of Find Your Pleasure, an online destination and author of a published book of the same title that inspire people to find things in their lives that bring passion and joy.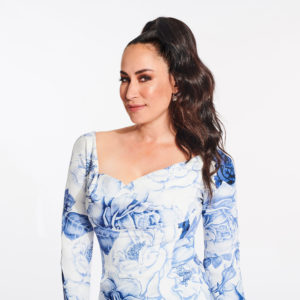 Q: Why did you choose to study at York?
A: In late high school I was faced with the question, who do I want to be and more importantly, what do I want to do with the rest of my life? I always knew I loved the arts. I was interested in painting and writing and was drawn to film. When I saw what York had to offer, I knew that's where I wanted to be. I ended up in the film and video department majoring in screenwriting - but was so delighted to also be able to take courses in a variety of other departments including sculpture, astronomy and gender studies.
Q: What was York like in the years you attended?
A: I feel like York has always been a microcosm of Canada – a beautiful mosaic of people with diverse backgrounds and cultures. The actual physical landscape of the school was very different when I was there. I went to Winters College and there was this fantastic underground tunnel with amazing art on the walls. I also remember spending lots of time at The Underground, going to raves and other late-night events.
Q: Do you have a favourite memory or place on campus?
A: I worked for many years as a bartender at the Absinthe Pub. It was an institution back then and a real arts hub on campus. You would have the dancers in one corner, actors in another, and film makers in another. It's also the place where I had my first encounter with my future partner when he ordered a drink at the bar. We had mutual friends but didn't know each other. He was in the directing stream and I was in the screen writing stream and years later it was our connection to York that brought us together. I remember fondly one night when he came up to the bar and ordered a Pernod. I thought to myself "what kind of weirdo asks for a Pernod?" I didn't even know how to pour it and he kind of laughed at me, and I thought to myself, "what a jerk." Low and behold we fell in love several years later and are together to this day.
Q: Did you have any favourite or memorable professors/mentors?
A: Professor Brenda Longfellow stands out as the first woman who listened to me and encouraged me. She's a Canadian filmmaker and taught me about feminism, empowerment and finding a voice. Also, Professor Tim Whiten, who taught me interdisciplinary arts. I don't think he realized it, but he inspired me to be fearless with the challenging art he was producing, and I was very fearful back then, coming from a small town to such a big school.
Q: Can you tell me a bit about your career path from graduation to present?
A: I graduated, travelled for a while and eventually found myself as an intern at a show called SexTV that City TV was producing at the time. From there I worked my way up and became manager of original production and traveled the world exploring stories of people who have lived unique sexual lives. In 2008, I decided to try on-air work and ended up producing and hosting a late-night talk show on CP24 called Sex Matters. Years later I got the job on The Social and recently received a Sex Educator Certificate from the University of Michigan.
Q: What's the most fulfilling thing about your job?
A: I'm fortunate to be the resident sex and relationships expert on The Social, and what I enjoy most is using my voice in a way the resonates with the viewers. We never take that for granted – the impact we can have on the people watching our show.
My other job that has been deeply rewarding is my online hub, Find Your Pleasure. I created the website to get back to one of my first loves, which is writing. It has given me the opportunity to do a deep dive on the way in which pleasure has been positioned in our world. I feel like pleasure has been treated as a dirty cousin to happiness, and a slippery slope to ruin, especially for women. I want people to think deeply about the things that inspire and motivative them and find what brings them joy. The research that I uncovered through my website eventually led me to writing a book (that has just been released) called Find Your Pleasure: The Art of Living a More Joyful Life, published by Simon and Schuster. It's quite meaningful that the journey I started at York University with screenwriting has led to this accomplishment.
Q: What advice would you give to current York students?
A: It's okay if you don't know exactly what you want to do for a living. Something that hit me in retrospect is that nothing I learned has been wasted. Bits and pieces of all the courses I've taken have informed my career.
To learn more about Cynthia and her new book Find Your Pleasure, visit findyourpleasure.com or follow @cynthialoyst on social media.
This is your Impact

Volunteer
Use your experience, build your network and keep connected to help York students and alumni.
Find Opportunities
Share your story
York alumni are making an impact. Inspire others by sharing your story.
Start Sharing