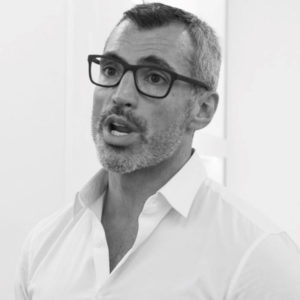 If there's a bright side to staying at home as a result of the COVID-19 pandemic, Tuvia Borok (LLB '03) embraces it wholeheartedly.
An executive director and senior counsel with Goldman Sachs in the UK, Borok makes time with his son to share three things they're grateful for every day. Lately, it's taking breaks to play cards and board games together. For him, it's about choosing to view this period of his life in a positive manner. "We may never have this opportunity again," Borok says.
This optimistic override serves him well as a mentor in the workplace and community, especially as a single parent. In addition to his executive role at Goldman Sachs, Borok, who was recently profiled in Forbes for his work in the LGBT+ community, is co-founder and CEO of The P3 Network, a UK charity that provides career support to LGBT+ families. He frequently contributes to panel discussions about the need for authenticity and inclusivity in the workplace, and coaches recent graduates and working parents on redefining heteronormative stereotypes.
Born in Israel, Borok immigrated to Canada from Germany with his parents as a child and grew up in Thornhill, Ont. "I was an overachiever," he says with a laugh. Borok was eligible for early entry to Osgoode Hall Law School and readily applied. "I didn't know 100 per cent where I wanted to end up with my legal career," he says. "York offered a breadth of opportunity and diversity through the faculty." After working in corporate law on Bay Street, Borok moved to the UK to complete his graduate degree at Oxford. He settled in London following a brief post in Moscow.
On June 11, Borok will virtually return to his alma mater to mark Pride month and welcome graduating students to York's alumni community in a GRADitude coffee chat titled, "Unashamedly Me: Bringing your Authentic Self into the Workforce."
When speaking about the importance of role models, Borok remembers the added challenge of rising through ranks of the finance world without any. "I could not look up or look around and see anyone who looked or talked like me." He recalls a talk he recently gave to new law graduates at a networking event, after which he was swarmed by attendees for three hours for advice on everything from how to mask their mannerisms at work to navigating potentially stressful interview questions that may reveal their true identity—realities he knew all too well.
It's why he launched a LGBT+ internship program in the legal division at Goldman Sachs and advises candidates to be upfront with the challenges they have faced on job interviews. "Most people tend to hide from the things they've overcome," he says. But that experience can be translated to a host of other valuable skills in the workforce.
"People think the world is a better place with policy changes and legal rights having come so far," he says. "But the sentiment isn't there and discrimination is still happening." He cites the fact that many new graduates, who were previously open about their sexuality, opt to conceal their identities upon entering the workforce as proof.
"My goal is to inspire and motivate others to find their cause," Borok says. "To re-characterize how people think about themselves and find their voice to become agents of change in the work setting."

Alumni Engagement is seeking to connect with York's LGBTQ+ alumni community to build a network. For anyone interested in getting involved, please contact Nicole Light, Senior Alumni Engagement Officer, at nlight@yorku.ca.
This is your Impact

Volunteer
Use your experience, build your network and keep connected to help York students and alumni.
Find Opportunities
Share your story
York alumni are making an impact. Inspire others by sharing your story.
Start Sharing