Identical twin sisters, Marnie (BA '01, BEd '01) and Rena Schwartz (BA '01, BEd '01), are certified Ontario teachers, kinesiologists, and owners and artistic directors of ViBE Dance & Fitness Studio in Thornhill, Ont. ViBE is a recreational dance and fitness studio that has a unique performance-based approach and a non-competitive inclusive philosophy. Together with their enthusiastic and energetic staff, Marnie and Rena strive to make every dancer feel like a star as they build skills and confidence through dance.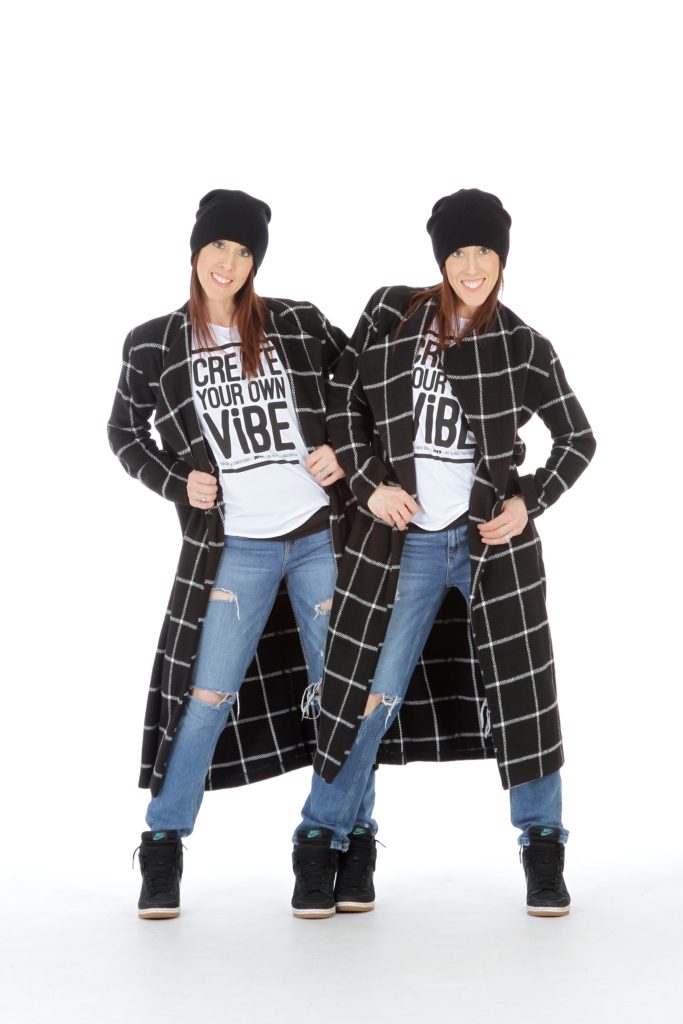 Why did you choose to attend York and how did it prepare you for your careers?
Rena: We chose York because it was close to home and it allowed us to maintain our work-life balance. York had everything that we wanted in a university, including kinesiology and education programs, and a great fitness facility too. We were at York for five years and did a double degree. In between our courses, we also taught cardio hip hop classes to the York students in the Tait McKenzie Centre.
Marnie: For us, York was an easy decision because our mom had graduated from York with a Bachelor of Arts as well as a Bachelor of Education degree, and she was a course instructor at York's Faculty of Education teaching additional qualification courses. Then our mom continued to have a very influential career in the teaching field. She has written professional books for teachers, and one of her books was actually used in our education class. We are very proud daughters! She is truly one of our biggest inspirations in life!
Can you tell us a bit about your career paths since York?
Marnie: When we graduated from York, we were dancing professionally for the Toronto Raptors Dance Pak, we were teaching dance at a few studios, we were working for an entertainment company, and we were supply teaching from kindergarten to grade 12 in the York Region District School Board. We were very busy—and we loved every minute of it!
Rena: During our final year at York, we had a business idea to create a recreational and inclusive dance studio for all children. We realized that the dance community was missing a place for kids who wanted to dance recreationally but would feel as involved and as immersed in high-quality dance training as those who were in the more competitive streams. Approximately six months after we graduated, we had a friend who helped us create our business plan; we found a location, renovated, and ViBE was born in September 2002. We are now entering our 19th year!
What makes ViBE special?
Rena: ViBE is a place for everyone, and where every dancer – short, tall, big, small, boy, girl, beginner, experienced, able-bodied, and special needs – feels important. Our goal is to treat people the way we would want to be treated—a mantra we live by daily!
Marnie: At ViBE, we promote a confidence-building environment where kids strive to be a better version of themselves every time they dance. We truly believe that dance builds confidence and our goal is to see the life skills that dancers learn at ViBE spill over into their daily lives. We try to teach kids to be the best that they can be at ViBE—and every day too!
How did York prepare you for what you are doing now?
Marnie: York taught us to manage our time, and doing the double degree forced us to be more organized, more focused, and in some way, we feel it empowered us. We love the culture at York and we believe it helped us learn how to better connect with people.
Rena: We love to dance and still train in New York and Los Angeles every year, and we are passionate about dance, teaching and the learning process, which we believe was nurtured at York. We are forever grateful for the lessons we learned throughout our five years at York.
How has ViBE pivoted during COVID-19?
Rena: Throughout COVID-19, we adopted the belief that you can only control one thing, your attitude! We decided to maintain a positive attitude and we focused on keeping ViBE alive! We sent out positive emails to our clients, stayed connected through social media with uplifting messages, dances, and videos. We also created a new on-demand video platform, www.itstimetovibe.com, where dancers can ViBE at Home. Dancers anywhere across the world can now be a part of the ViBE community, it's pretty exciting!
Marnie: The worldwide pandemic also taught us to pivot and look for more efficient and effective ways to operate ViBE. This summer, we opened Camp ViBE and followed all government regulations and standards for health and safety while continuing to achieve the fun factor. We have embraced the 'new normal' and we are offering in-studio classes and Zoom classes this year. We look forward to the 2020-21 dance season for more fun, fitness, and confidence building! We can't wait to keep ViBING!
What advice would you give to current students?
Rena: Our advice to students is to work hard, to be kind, to smile, to focus on yourself and strive for the best version of yourself—and of course, to spread good vibes!
Marnie: If you have a dream, an idea, a goal, put in the hard work, dedication, commitment and focus. Believe in yourself and follow your dreams until you make them a reality!